The Institute for Fiscal Studies has claimed that Scotland would borrow more money if voters decided to break away from the rest of Britain, as dwindling oil revenues and the short-term benefits of the UK recovery would fail to make it onto its balance sheet.
The UK's fiscal position is set to improve over the next five years more than was previously forecast, but Scotland could miss out on that in the event of independence, stated the IFS, citing data from the Office for Budget Responsibility (OBR) [Figure 1].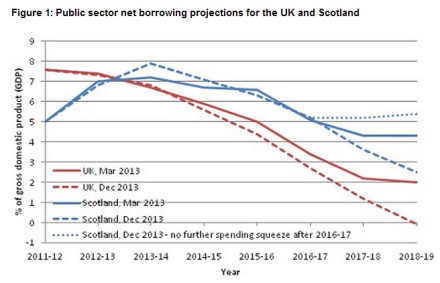 "If the OBR is right then it looks like the gap between public spending and tax receipts will be bigger in Scotland than in the rest of the UK after 2012-13, even when Scotland is assigned most of the oil revenues," said Paul Johnson, director of the IFS.
"In these circumstances even the very tight policies proposed by the current UK government which, if carried out, would take UK public finances back to balance by 2018-19, will not be enough to achieve budget balance in Scotland".
Scottish people will vote in an independence referendum on 18 September this year and will be asked the straight "yes/no" question: "Should Scotland be an independent country?"
However, Johnson reiterated how the Scottish economy is vulnerable to the smallest of changes in its oil revenues and if this pool cash dwindled, its balance sheet would not be diversified enough or supported by England to buoy up a shortfall [Figure 2].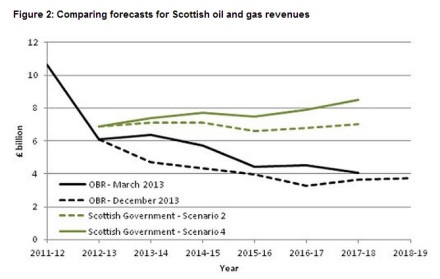 "The outlook for Scotland is, however, very sensitive to the tax revenues received from oil and gas production and some forecasters take a very different view from the OBR on the prospects for these revenues over the next few years," said the IFS.
"In particular, the White Paper published by the Scottish government in November presented figures for Scotland's fiscal position based on a forecast that Scottish oil and gas revenues would be somewhere between £6.8bn (€8.3bn, $11.3bn) and £7.9bn in 2016–17.
"We estimate that the OBR's forecast at the time implied revenues for Scotland (allocated on a geographic basis) of just £4.5bn and that their latest forecast implies revenues of just £3.3bn in that year."
It added "it is worth noting in this context that it looks like the Scottish government's forecasts for revenues under these scenarios have been too optimistic in 2012–13 and, with the vast majority of payments already having been made for 2013–14, that their forecasts for this year also look to be too optimistic. It remains to be seen whose forecasts might be more accurate going forwards."