Major changes could be in store for the Dounreay nuclear power satation in Scotland, if the Highland Council approves an application to dismantle the site's reactor.
Nuclear waste held in pits on the site is at risk of being exposed because of coastal erosion and the application would entail building new storage spaces for the spent fuel. The submission also requests the demolition of the iconic, and menacing, reactor dome. Coastal erosion could hit the site within 800 years and wash the nuclear waste out into the North Atlantic Ocean.
The dome, or "golf ball", was built with the rest of the site in the 1950s. It was built as a sphere to best contain gases from the reactor in case of a breach. The council's approval is the final hurdle before demolition. It has been out of commission since 1994.
Historic Scotland has explored conserving the building and a 2007 public consultation returned several suggestions. A museum, hotel and nightclub were all considered options. But low level radioactivity and high upkeep costs ultimately condemned the building. According to the BBC, the dome was set to be repainted in 2011, as it had been once a decade since built. Dounreay Site Restoration Limited chose to dodge the £500,000 cost and said the steel would last until it was dismantled.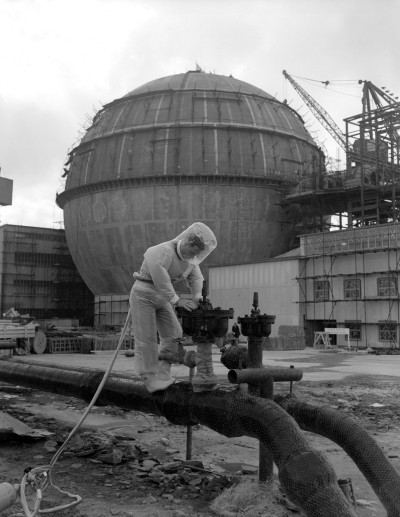 Managing director Phil Craig said the removal of the dome would be a major step in the works. "While this pase in our decommissioning mission signifies a step change in visible decommissioning, with skyline changes expected as reactor buildings and other strucutres are ultimately removed, there will be no change to our highest priorities - safety, security and environmental protection," Craig told the BBC.
According to the application, the works are in phase 3 of the redevelopment and request that three nuclear reactors are dismantled, all redundant buildings are knocked down and a temporary site is built to repackage the nuclear waste.
A fire caused by staff error in October 2014 led to an "unauthorised release" of radioactivity. DSRL said the fire at the sodium tank farm was caused by "unacceptable behaviours and practices" from staff that "fell well short of our values and standards."
Dounreay is on the north coast of the Scottish Highland region of Caithness.