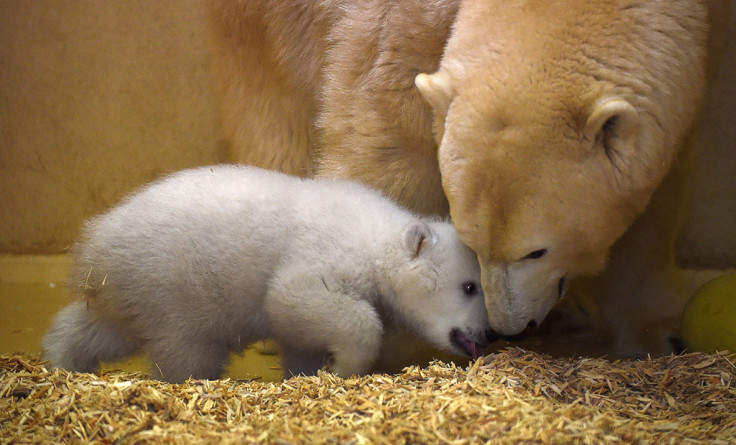 The Royal Zoological Society of Scotland (RZSS) welcomed UK's first polar bear cub in 25 years. It announced recently that a female polar bear, Victoria, gave birth at the Highland Wildlife Park in Scotland, marking a rare event.
The last polar bear cub born in the country was in 1992 at Flamingo Land in Yorkshire, while Scotland last saw a polar bear cub birth in November 1991.
The Scottish zoological society described the birth as an "outstanding achievement which will have interest across the world".
Douglas Richardson, Head of Living Collections at RZSS Highland Wildlife Park, said, "The arrival of a polar bear cub is a tremendous husbandry accomplishment for our team."
The zookeepers reportedly said that they initially thought Victoria was simply getting fat when they noticed she was 440 pounds heavier. However, they now realise that the weight gain was because of pregnancy.
"We first heard promising noises in the week before Christmas and these have now continued into the new year," Una Richardson, the park's head keeper, told Evening News.
He added that they are yet to find out if she gave birth to only one or more cubs. "Because we don't have sight inside her cubbing box we can't be sure if Victoria has had more than one cub but we can confirm the birth," Richardson said.
It turns out that during their breeding season in March 2017, Victoria mated with Arktos, one of the park's two male polar bears, and became pregnant.
Although the birth is a celebratory occasion for the zoo, they are now stressed as the first three months for the newborn are perilous, given morality rate of polar bear cubs is high. The staff at the park at Kincraig have kept the mother well fed on fish and vegetables.
"We will continue to monitor Victoria and very much hope for the best possible news when she emerges around March. Until then, Victoria's enclosure will be closed to the public and keeper activity will be at a minimum to give her offspring every chance of survival," Richardson told the news outlet.
Polar bear cubs are reportedly said to be born blind and weigh a little more than a guinea pig. They are around 30cm long. The cubs only open their eyes once they are about a month old.