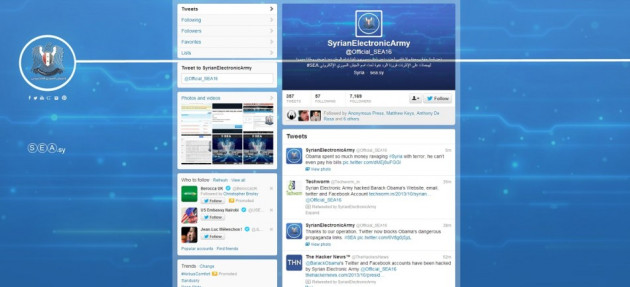 Hackers supporting the regime of Syria's Bashar al-Assad have hacked into the Twitter and Facebook accounts of US president Barack Obama.
The Syrian Electronic Army (SEA) said it hacked @BarackObama, the president's official Twitter page and his Facebook profile.
Hackers replaced links posted on the two accounts by the president and his staff with others directing users to a 23-minute YouTube video entitled Syria Facing Terrorism.
The video shows images of death and violence said to support the Syrian regime's rhetoric that the revolution is being waged by outsiders and not by the Syrian people.
The links were quickly blocked or removed by Twitter and Facebook.
The SEA claimed that it also hacked Obama's official campaign website, barackobama.com, and many of the presidential campaign staff's emails accounts.
"We accessed many Obama campaign emails accounts to assess his terrorism capabilities. They are quite high," the SEA tweeted. "We are watching you, Obama Bin Laden".
The group, which has risen to prominence as the cyber-wing of the Damascus regime on the back of similar attacks on Western media outlets, substantiated its claim by posting a picture of what appears to be barackobama.com's content management system.
SEA linked its attack to recent revelations about US intelligence data harvesting of millions of email and mobile phone accounts, including 35 head of states, around the world.
"Obama doesn't have any ethical issues with spying on the world so we took it upon ourselves to return the favour," the SEA tweeted.
No one at Organizing for Action - the organisation managing President Obama's social media accounts - was available for a comment.
SEA's cyberwar campaign has hit high-profile targets such as Sky News, AFP, the Financial Times, the Guardian, ITV, the BBC and culminated with a hack of the AP Twitter feed which saw $140bn wiped off the S&P 500 index.