SeaWorld has announced it will no longer breed killer whales at its parks once the current generation dies in what appears to be an eventual phasing out of its trademark live orca entertainment shows. The company announced the decision to end its orca breeding operation as "times have changed, and we are changing with them".
SeaWorld's profits in recent times have plummeted in the wake of the release of the 2013 documentary Blackfish which exposed the treatment of the mammals in the theme park. The theme park previously announced it would completely phase out its killer whale live shows at its San Diego resort by the end of 2017 following mounting protests and pressure, but gave no indication if it would be ending similar performances at its parks in Florida or Texas.
However, the company has now confirmed once the current batch of killer whales at its parks die, it will not breed anymore, effectively ending the controversial shows featuring the animals performing a series of tricks and stunts and signalling a "new direction for the company".
The company's chief executive and president Joel Manby said: "SeaWorld has introduced more than 400 million guests to orcas, and we are proud of our part in contributing to the human understanding of these animals.
"We've helped make orcas among the most beloved marine mammals on the planet. As society's understanding of orcas continues to change, SeaWorld is changing with it. By making this the last generation of orcas in our care and reimagining how guests will experience these beautiful animals, we are fulfilling our mission of providing visitors to our parks with experiences that matter."
There is no timescale for when the current generation at SeaWorld will die. One of its orcas, Takara, became pregnant last year and is expected to give birth in captivity. SeaWorld has not collected an orca from the wild in almost 40 years, and the vast majority of its orcas were born in captivity. SeaWorld says, having never lived in the wild, its orcas would not now survive in the oceans that include "environmental concerns such as pollution and other man-made threats".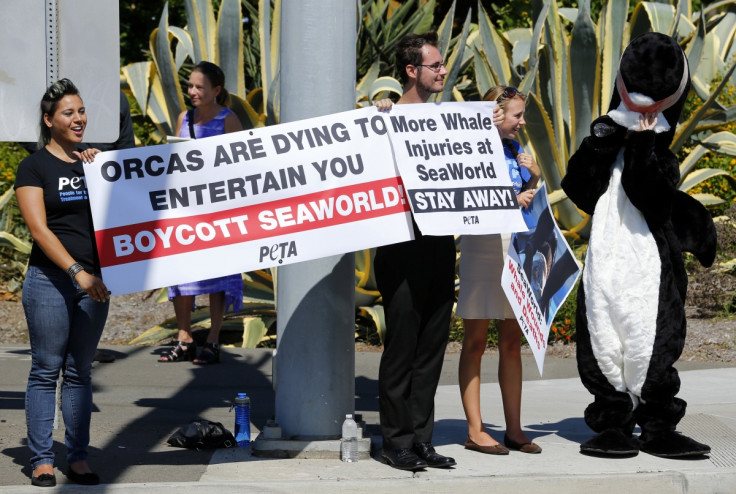 Following the announcement, a spokesperson for animal rights group Peta said: "Peta has campaigned hard, and now there is a payoff for future generations of orcas – but today is the day to stop breeding, not sometime later this year. SeaWorld must open its tanks to the oceans to allow the orcas it now holds captive to have some semblance of a life outside these prison tanks."
In August 2015, SeaWorld saw a collapse of its profits by 84% as attendances plummeted off the back of the release of Blackfish. The film focused of one orca, Tilikum, which was involved in the deaths of three people while being held in captivity, the last one involving a SeaWorld trainer, Dawn Brancheau, at its Orlando resort.
Tilikum, which has lived at the theme park for 23 years and is estimated to be 35 years old, is now said to be suffering from bacterial infection in his lungs which could eventually kill him.
There are currently orcas held in captivity for entertainment purposes at resorts such as Marineland in Ontario, Canada and Antibes, France as well as Loro Parque in Tenerife. The Miami Seaquarium has only housed one orca, Lolita, since 1980 after her tank-mate Hugo died after repeatedly smashing his head into the walls of the tank in what is described as an act of suicide.