Secrets of ancient manuscript depicting the wars that inspired Game of Thrones
The Canterbury Roll traces the history of England from its mythical origins until the Wars of the Roses.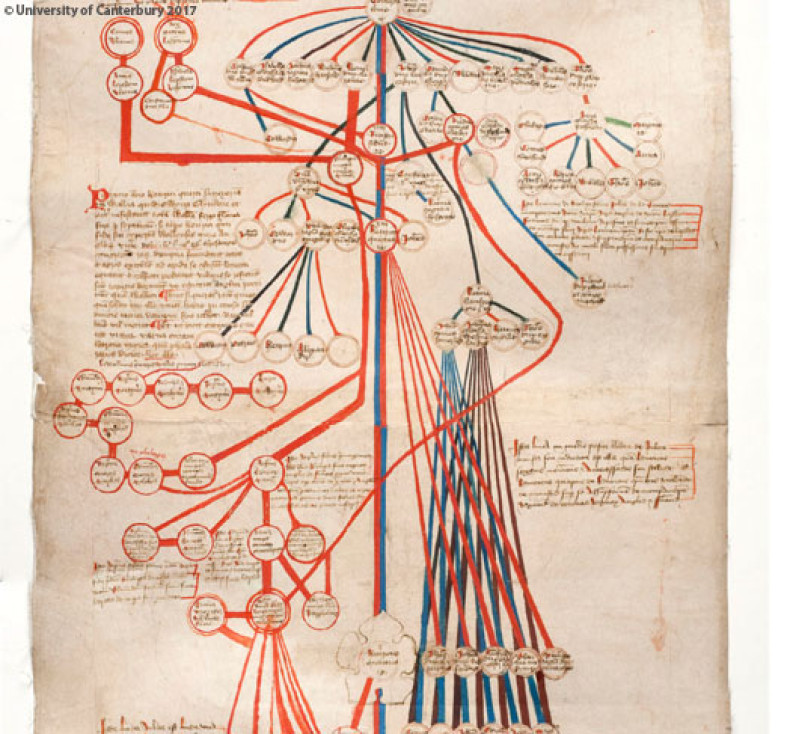 This month, a group of British scientists will travel to New Zealand to investigate the secrets hidden in a magnificent 600-year-old manuscript from medieval England.
The Canterbury Roll traces the history of England from its mythical origins right up until the Wars of the Roses – a series of violent power struggles between the houses of York and Lancaster which defined the history of the nation and even served as the inspiration for the Game of Thrones novels.
The unique manuscript was acquired by the University of Canterbury (UC) in Christchurch, New Zealand, one hundred years ago.
"The Wars of the Roses are what Games of Thrones is based on, and this is the Wars of the Roses laid out across a 5-metre, visually spectacular document," Chris Jones, from UC told news.com.au.
"It features contributions from both the key players in the Wars of the Roses - it was originally drawn up by the Lancastrian side in the conflict but it fell into Yorkist hands and they rewrote part of it."
The document, which is thought to have been created in the 1420s, has been studied extensively, however, researchers think the ancient text has yet to reveal all of its secrets.
A team from the Nottingham Trent University will search for hidden writings and other features using advanced imaging equipment.
"The science itself is new: it's ground-breaking work that has never before been applied to this type of manuscript," Jones said.
Staff and students have been working to translate the manuscript from its original Latin and digitize it, with the full Roll expected to be publicly available online later this year.
The first section of the document is already accessible on the university's website.