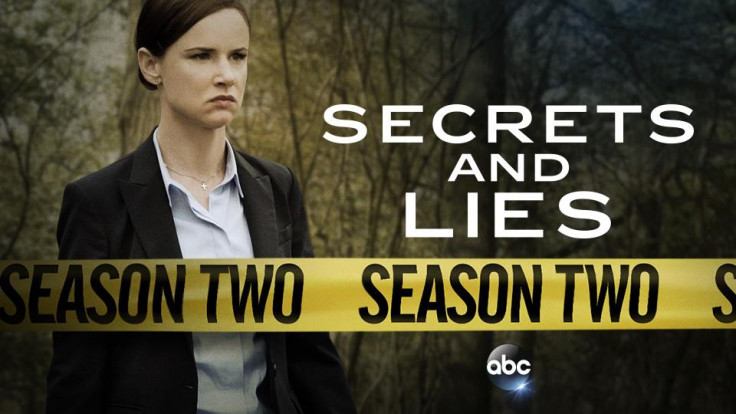 Secrets and Lies season 2 premiere date is yet to be announced by ABC but the show's official social media pages are teasing fans with images of its new and interesting cast ensemble from the set. Like the previous season, the upcoming season, expected to return in 2016, will focus on another murder mystery.
Here are five things that you can expect for the thriller:
1. Detective Andrea Cornell is the only constant cast member: The anthology thriller drama is taking one murder case for a season, which is investigated by Juliette Lewis's character. In the previous season, Cornell solved the murder mystery of Tom Murphy who was killed by Ben Crawford's youngest daughter Abby.
2. Season 2 will focus on Kate's murder: The upcoming season will follow the life of Eric Warner (Michael Ealy), a hardworking young man and heir apparent to his family's private equity firm in Charlotte. He is recently married to Kate and is attending a function to honour his father's move of passing over the reins to him when tragedy strike and his almost perfect life is ruined after his wife Kate is murdered.
3. Detective Cornell to suspect Eric as the main killer: On investigating the complex case, Cornell will doubt Eric as the prime suspect but at the same time she will be suspicious of other characters, which includes Amanda Warner (Mekia Cox), Eric's sister. Other people who will be under the radar are Melanie Warner (AnnaLynne McCord), Patrick Warner (Charlie Barnett) and Danny (Kenny Johnson).
4. The real killer revelation: As in the previous season, this time too fans can expect that an unexpected character will be revealed as the real culprit. In the previous season, Ben's daughter Abby emerged as the real killer of the five-year-old boy.
5: Premiere date: Secrets and Lies season 2 will air on Wednesdays after Nashville's mid-season break in the fall of 2015-16. The network is yet to fix a date for the same.
The first anthology thriller series by ABC became hugely popular for its crisp storytelling and impeccable acting by the cast, and fans are now eagerly waiting for the next season. Here are some of the images from the set shared on the show's official Instagram page.