Bigg Boss 9 — the Indian version of UK's Celebrity Big Brother — will return with host Salman Khan for the weekend special episodes. House captain Priya Malik this week got the special power to nominate two contestants for elimination, while rest of the participants were stripped of their voting rights.
Click here to watch the weekend special episode live stream online. Bigg Boss season 9 airs everyday on Colors.
The former Big Brother Australia finalist nominated Suyyash Rai and Digangana Suryavanshi for being the least entertaining contestants. However, Colors has not opened the voting lines and fans are still speculating on how BB will decide the fate of the nominated contestants.
During the regular luxury task, BB asked the housemates to divide into two groups to perform tasks that would test their resistance for the five sins — lust, greed, anger, patience and sloth. Malik was assigned to supervise the task, which she did quite well.
During the tasks, Kishwer Merchant went back to her natural bullying attitude and made sure to make the tasks difficult for Mandana Karimi by choosing the latter's gold ornaments for destruction and pouring the garbage bag on her. She and her boyfriend Suyyash also tried to distract the Iranian model by creating unpleasant and ear-deafening noise near her.
However, Prince Narula, Rochelle Rao and her boyfriend Keith Sequeira played the game fair and tried to mould Rishabh Sinha's mind by psychologically influencing him against his team. The highlight of the luxury task was the "lust" challenge.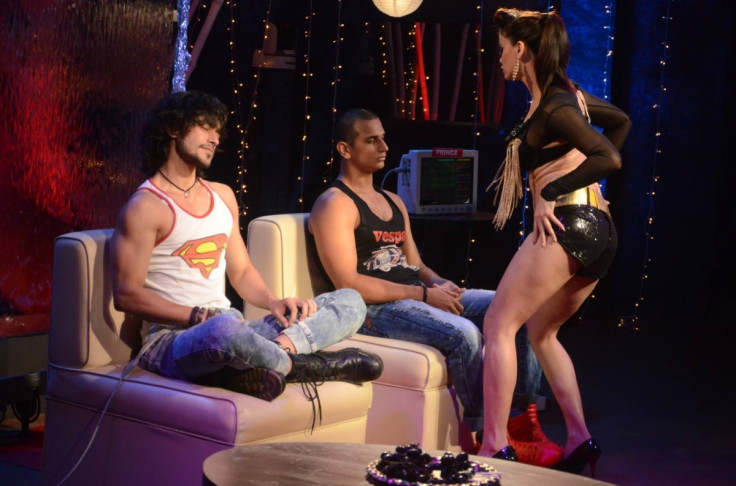 Prince and Rishabh were tempted by a dancer who performed a seductive lap dance on them. Prince won the task as his heartbeat was steady at 130 while Rishabh's crossed 150 for a moment. Overall, the luxury task was won by Kieth, Rochelle, Prince and Mandana. It will be interesting to see how they will be rewarded by the Bigg Boss.
Bollywood star Ranveer Singh will enter the controversial Indian reality show during the weekend to promote his movie Bajirao Mastani, a historical-romance film which also stars Priyanka Chopra and Deepika Padukone.