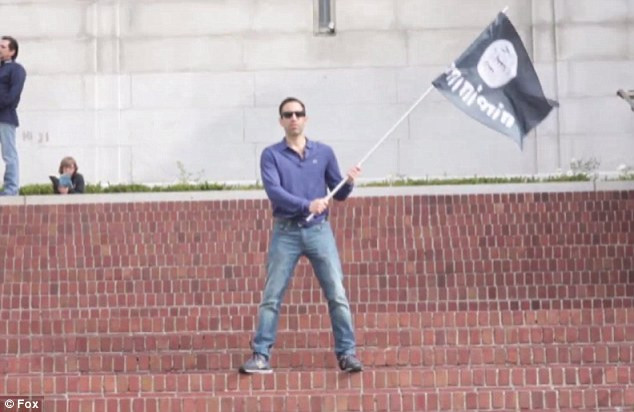 A satirist who waved the Israeli flag on a prestigious US university campus was publicly berated but then virtually ignored moments later when waving the black flag of Isis.
Filmmaker Ami Horowitz, a blogger with the right-wing Fox News network, performed the stunt at Berkeley College in California, reknown as a hotbed of student radicalism since the 1960s, in order to gauge the public reaction to two emotive symbols.
"Isis is misunderstood. We just want our own state. Why does America keep bombing us? America and Western imperialism are to blame, not Isis," he shouts, while waving the Isis flag.
Most people passing do not comment.
"The blood of the Middle East is on the hands of America. American imperialism is responsible for death all around the world," yelled Horowitz, to which one student gives him the thumbs up.
At one point he lights a cigar and smokes it while waving the jihadi banner and a student approaches him. But instead of reprimanding him for waving the banner, he instead reminds him that it is against student regulations to smoke on campus.
Later, Horowitz held aloft the Israeli flag and was met with a much more hostile reaction.
"F*** Israel," exclaimed one man passing by, "You're killing kids," said another.
"Israel is a thief in the night, and a thief in the day," said one man.
In a posting by the video on the Fox News website, Horowitz questions the wisdom of students at Berkeley.
"Students at Berkeley clearly have a lot of intellect; it is one of the most prestigious and selective universities in the country. But do they have wisdom?
"I went to the bucolic campus armed with a flag that represents the greatest evil known today, Isis. If these are our best and brightest then we should all be afraid, very afraid," he wrote.