Anyone riding a Segway scooter in public is breaking the law, the Met Police warned. The statement comes with the use of updated "hoverboard" versions of the vehicle becoming increasingly popular on UK streets.
In a tweet, the force said laws banning Segway use on pavements and roads also apply to hoverboards. "Own one of these or thinking about getting one? They're illegal to ride in public!" said the Met, alongside a picture of one of the vehicles.
It reminds consumers that motor vehicles must be registered and insured, and that "self-balancing scooters would not currently meet the requirements of these schemes, so are not legal for road use".
"You can only ride an unregistered self-balancing scooter on land which is private property and with the landowner's permission," according to CPS guidelines, citing a 180-year-old law. In Scotland, they are illegal under the Roads (Scotland) Act 1984. As motor vehicles, Segways cannot be used on pavements either, the Crown Prosecution Service clarified.
In 2010, former MP and leader of the Welsh Liberal Democrats Lembit Opik led a Segway protest outside the Houses of Parliament in defiance of the ban. He branded the police approach to the vehicles "hypocritical".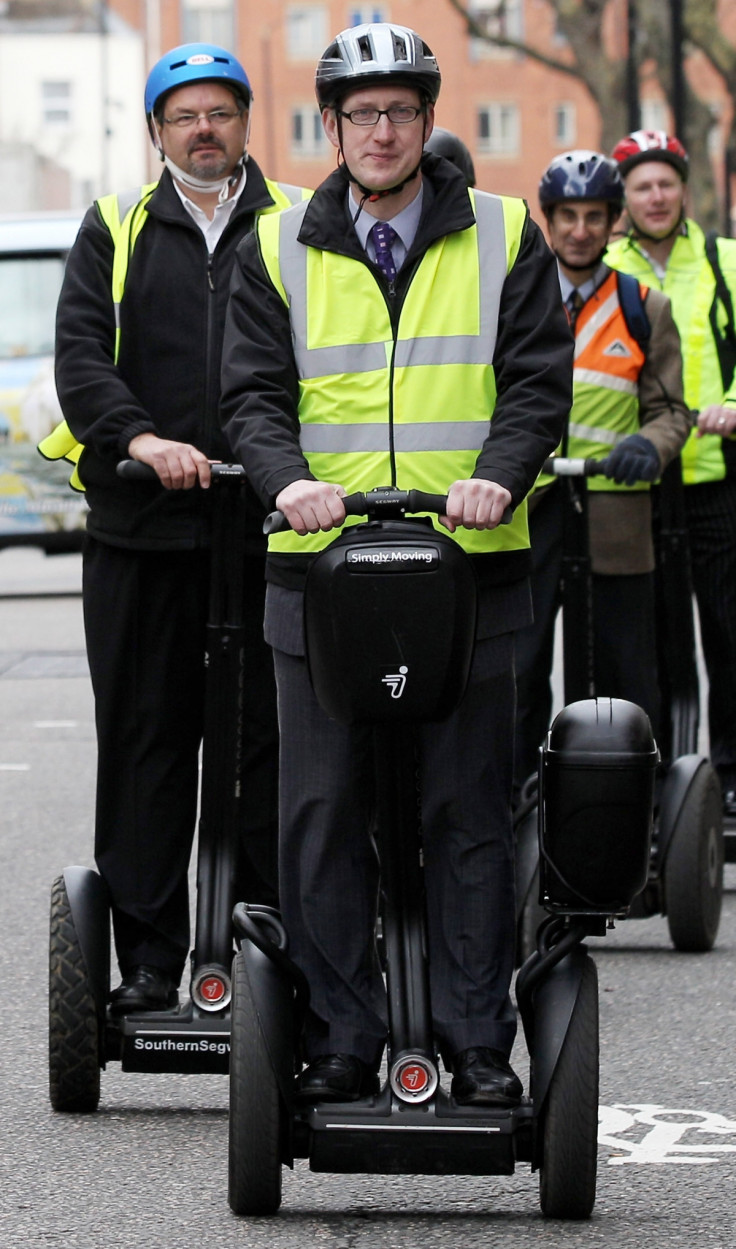 He pointed out that police in Sutton, south London were using Segways for patrols in 2007.
"Any person could reasonably assume that if I rode a Segway live on television and didn't get arrested, they would be all right, too. There is nothing in the law to say Segways are illegal. There has to be a bit of common sense in this, and when it comes to Segways, the sense is not common.
"They are immensely environmentally friendly. They help people who have limited mobility. You are high, so are highly visible, and for short journeys in cities, which are clogged up not least because of insane investment in cycle lanes, Segways are in many ways going to be faster than cars. If you want to save the environment, save time and save money, Segways are the way to go. If the government is serious about any of those things it should be serious about Segways."
A Segway is a self-balancing motor vehicle that uses gyroscopes to remain upright. The increasing popularity of the recent hoverboard variant of the Segway has been boosted by their use by footballers and rappers.
In 2011, a Barnsley man became the first person in the UK to be successfully prosecuted for riding a Segway scooter on a pavement. Philip Coates, 51, was fined £75 and ordered to pay £250 in court costs after being charged under the Highways Act 1865.
It is currently legal to ride the vehicles in 30 US states, Portugal, Sweden and Germany. However, authorities in the Czech Republic want to crack down on their use in Prague fearing they could cause an accident.