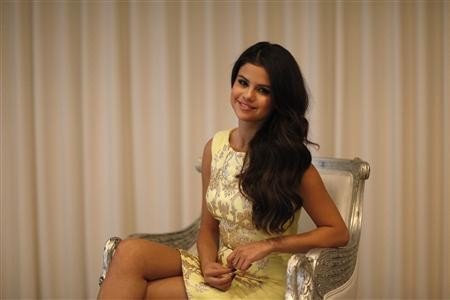 Selena Gomez has reportedly turned to religion to help her with depression and to avoid rehab.
In December 2013, Gomez had cancelled her tour of Asia and Australia to promote her recent album Stars Dance, stating personal reasons, and on 5 January it was reported that the Come and Get It singer was admitted at The Meadows treatment centre in Wickenburg, Arizona.
"Selena is trying to change her ways by going to church and more so to avoid going to rehab. She feels like she has a spiritual gap and that maybe that's why she is struggling," a source told Hollywood Life.
"She learned about the spiritual aspect in rehab when they talked about the Twelve Steps of Alcoholics Anonymous. Her parents are just hoping that this isn't just some short lived stint to avoid rehab,," the source said.
Gomez's mother Mandy and stepfather Brian Teefey are deeply worried about the 21-year-old star.
"Her parents and friends love and hate the idea of using religion. They love it that it shows that Selena knows she needs help, and is looking at outlets to heal herself, but hate it because they know that it probably will not work," another source close to the singer told the website.
"She needs rehab and people who need rehab never want it, and that is the mode that they are in with her at this time."
Adding on, Gomez's family and friends want her to stay away from ex-boyfriend Canadian pop star Justin Bieber.
"Selena is in a really bad place at the moment -- she's on the edge and now overcome with jealousy," a source told The Sun. "She really needs to wash her hands of Justin for good."
"Selena is now acting a little brainwashed and not challenging a thing Justin says. There was a time not long ago where they were fighting and arguing about their relationship, but now she's like a robot and completely in his thrall," the insider continued. "Whatever he did to keep her from moving on from the relationship worked a little bit too well, because it's like she's a completely different person."