The three-day shutdown of the US federal government is set to end after Democrats agreed to a temporary funding bill.
But leader of the Democrats in the upper house Chuck Schumer criticised Donald Trump for failing to help in striking the deal and said he had not spoken to him since the shutdown began on Friday.
"The great deal-making president sat on the sidelines," Schumer said.
However he said that he was confident Republican promises would be met on keeping the terms of the Obama-era Deferred Action for Childhood Arrivals (Daca) programme.
He added: "The Republican majority now has 17 days to prevent the Dreamers from being deported" referring to the 700,000 young immigrants brought to the US under the scheme.
After the Senate voted through the temporary funding bill which will plug a gap until 8 February, Republican Senate leader, Mitch McConnell said his party would look at legislation "that would address Daca, border security and related issues, as well as disaster relief".
"We need to move forward and the first step, the very first step, is ending the shutdown," he added.
The Senate will vote on final passage of the bill before it goes to the House and then be signed by the president before federal employees return to work.
Republican House speaker Paul Ryan said if the Senate passed the spending bill, the House would pass it.
Both sides appeared to proclaim victory. Vice-president Mike Pence said on Twitter "Thanks to the firm stand taken by@POTUS & Senate & House Republicans, the gov't shutdown is coming to an end. The #SchumerShutdown failed.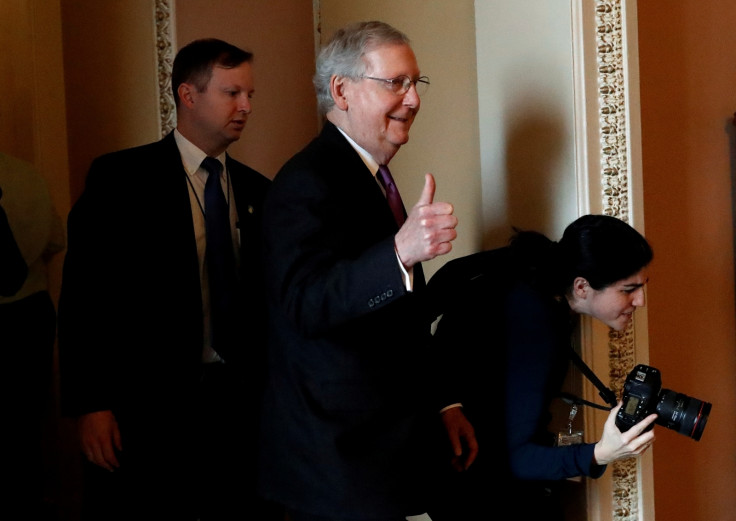 "Now that the government is re-opening, Congress can get back to work advancing the President's agenda that is Making America Great Again!
Democratic Senator Heidi Heitkamp welcomed the deal telling Reuters: "You now have a commitment for a path forward for the so-called 'Dreamers.; That's critical. We're going to get a vote. We're going to regular order,"