Five-times Wimbledon singles champion and world number one Serena Williams had to pull out of Wimbledon after suffering a worrying health scare during a doubles match as she partnered sister Venus.
Serena, 32, who along with Venus has dominated the women's game for over a decade, broke down in tears after serving four double-faults in a row to lose the third game of the first set against Switzerland's Stefanie Voegele and Germany's Kristina Barrois.
When called to serve Serena appeared unable to clear the net, and a third double fault prompted umpire Kader Nouni to check she was okay. Serena appeared to be having sight problems and unable even to bounce the ball properly. Encouraged by the crowd she attempted to carry on but a fourth consecutive double fault signalled the fact that something was wrong.
Having already consulted a doctor and physio, the tournament referee and supervisor were now called and the Williams sisters were forced to withdraw. Later Serena said in a statement: "I really wanted to compete, but this bug just got the best of me." Her sister Venus added: "Unfortunately, Serena has been feeling unwell for the past few days and she just couldn't play to her potential today. I'm really proud of her for trying, because we just love playing doubles together."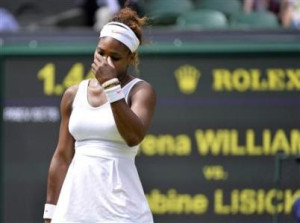 Having both been eliminated in the third round of the singles tournament last week, today's health scare for Serena could mark the beginning of the end for the domination of the Williams sisters.
Competing as singles Venus (b.1980) has won seven grand slams and Serena (b.1981) 17, often competing against each other - including in eight grand slam finals. Although close the sisters have a fierce professional rivalry, instilled in them by their parents Richard Williams and Oracene Price.
The Williams sisters have been a breath of fresh air for the women's game, having been raised in tough neighbourhoods of California and reaching the top - becoming the first African-American women to win Wimbledon. They have won the women's doubles title together on five occasions, most recently in 2012.