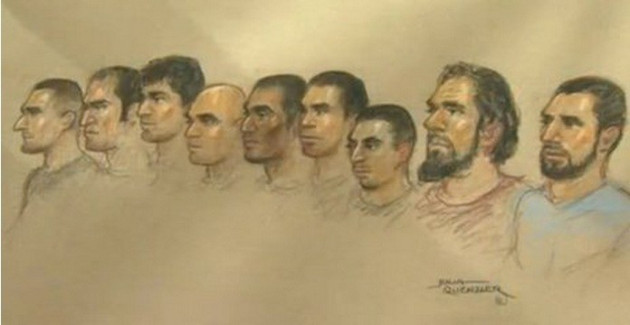 A nine-member paedophile gang burnt and beat its victims and used an "instrument" to make one miscarry, a court has heard.
A jury at London's Old Bailey was told the Oxford-based gang inflicted "humiliating and degrading" treatment on up to six girls aged 11 to 15. The treatment included biting, suffocation, burning and scratching.
Abusers from around the country travelled to Oxford to rape the children at venues such as empty houses. The victims were plied with so much alcohol and drugs they were sometimes barely aware of what was happening to them.
The defendants also urinated on the victims during bouts of abuse which went on for days. When one 12-year-old victim fell pregnant, the abusers forced her to miscarry.
Victims were targeted because they were vulnerable and then groomed by members of the gang to be child prostitutes, the court heard.
Charges against the group took nearly 30 minutes to be read out. The men were charged with rape, conspiring to rape a child, arranging the prostitution of a child, making a threat to kill and trafficking.
Kamar Jamil, 27, Akthtar Dogar, 32, Anjum Dogar, 30, Assad Hussain, 32, Mohammed Karrar, 38, Bassam Karrar, 26, Mohammed Hussain, 24, Zeeshan Ahmed, 27, and Bilal Ahmed, 26, pleaded not guilty on all counts.
The Asian sex gang were arrested as part of 'Operation Bullfinch', a police investigation into a gang alleged to have sexually exploited up to 24 girls aged 11 to 24 in the Oxford area
Prosecuting QC Noel Lucas revealed one victim described the lifestyle as a "living hell", adding:
"The depravity, and I use that word with care, of what was done to the complainants was extreme.
"The facts in this case will make you feel uncomfortable.
"The girls were usually given so many drugs that they were barely aware of what was going on. Indeed, they say it was the only way they could cope with what was going on.
"Between acts of abuse sometimes stretching over a number of days, the Oxford men ensured girls were guarded so that they could not escape."