Nick Clegg: I've got Nothing to Hide over Rennard Sex Pest Claims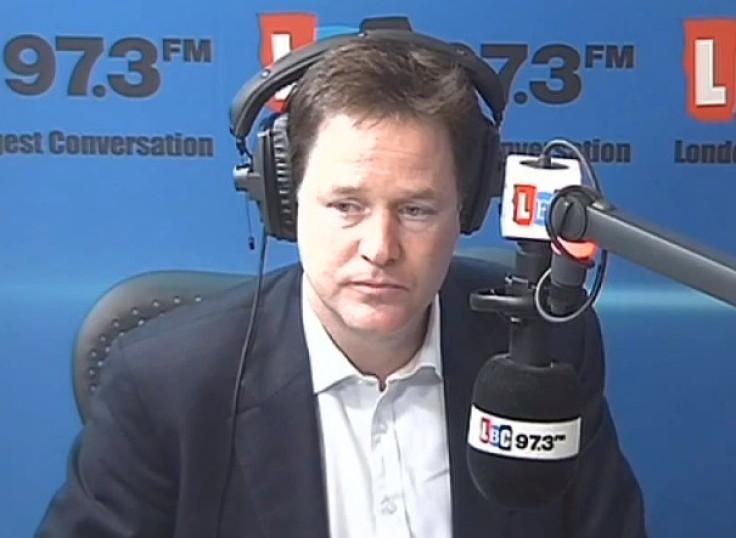 The Liberal Democrat sex scandal has become a police matter as officers opened investigations into the issue and party leader Nick Clegg took to the airwaves to say: "I can only tell you the truth as I recall it."
The deputy prime minister was on LBC Radio in London to defend his handling of the sex pest allegations against Lord Rennard, the former chief executive of the Lib Dems.
Clegg's appearance came hours after senior party members met the Metropolitan Police's Specialist Investigations Command.
A raft of allegations of inappropriate behaviour have been made against Rennard by up to 10 women. He denies any wrongdoing.
Clegg has been criticised for his own handling of the matter and struggled to explain exactly what he knew of the allegations. The party denied there had been a cover-up and that Cegg knew of the claims five years ago.
He stood firm on LBC, insisting: "I've got nothing to hide. We've got nothing to hide."
Clegg said: "Danny Alexander met Lord Rennard and told him there were these concerns. He denied it, the women didn't want to take it forward - they just wanted it to stop. We acted and acted as we could with what we were told at the time."
Clegg knew nothing of the substance of the claims against Rennard, business secretary Vince Cable has claimed.
A Metropolitan Police spokesman said: "Officers from the Specialist Investigations Command met officials in the Liberal Democrat party at New Scotland Yard following recent media reports.
"The meeting was held to assist with our inquiries to ascertain if any criminal activity has taken place. That work continues.
"It was agreed at the meeting that any internal misconduct matters would be referred back to the Liberal Democrat party."
Rennard stepped down from his chief executive role in 2009 for health reasons.
Details emerged of the measures taken by the Lib Dems at the time which one of the complainants branded "Kafkaesque."
One was slapped with a gagging order to prevent her from speaking out, it was alleged. Another woman was reportedly offered the chance to meet Rennard in a bizarre "restorative justice" stunt.
On LBC, Clegg admitted that his party had not handled the situation well.
"At the end of the day you can only launch investigations when people came forward and that hadn't happened until last Thursday.
"All I care about at the end of the day is that my party believes to its core in treating people with respect and that wasn't happening."
© Copyright IBTimes 2023. All rights reserved.