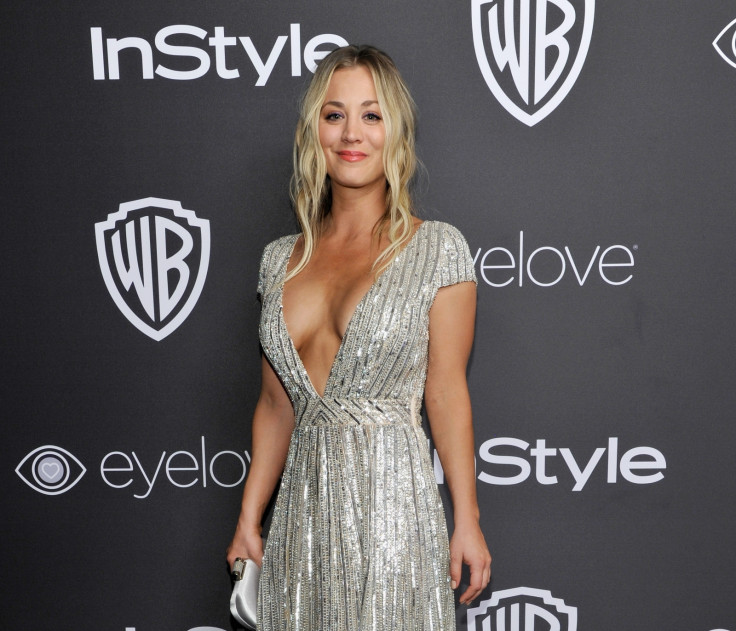 Actress Kaley Cuoco can make even menswear look sexy! The Big Bang Theory star ditched her bra and posed in several pantsuits for the cover of the September issue of New York Post's fashion-centric supplement Alexa.
For the cover photo, Cuoco wore a sequin-encrusted pink suit and gave fans a peek at her cleavage as she went braless (and shirtless) for the photo. In another snap, she wore a blue suit with a sheer top, and then went on to show quite a bit of skin in a shimmery silver suit.
In the other two photos, she put on a multi-coloured patterned suit with high heels on and an eye-catching orange suit with leaf patterns. She also posted several snaps from her photo shoot on her Instagram account, and most of her 3.3 million followers were obviously impressed.
She captioned her post, "@alexa_nypost out now this one was all about the suits! Menswear all day thank you amazing team @johnrussophoto @jamiemakeup@faye.woods @christinesymondshair@ashlie_johnson @anahitaglitters."
A fan of the 31-year-old star wrote in the comments section, "One thing I love about @normancook is her facial expressions. They are priceless." Another noted, "Your serious look is seductive as hell!"
"Mygawd! Beauty Queen," gushed a follower, while another said, "You look stunning in every pic!! Love the style and your hair and makeup are amazing."
A user cheekily commented, "Psst -whispers- Kaley. I think you forgot to put on a shirt". Another fan simply said, "Sexiest girl on earth!"
The CBS star also opened up about her fondness for pantsuits and spoke about her boyfriend Karl Cook.
She said, "I love pantsuits. I don't think there's anything hotter than a cool, completely-tailored suit on a chick. I swear to God, I have Diane Keaton deep inside of me."
Talking about her relationship with Cook, she revealed, "I've never been in a relationship like this. He couldn't be kinder."
Their shared love for horses brought them closer, according to Cuoco. "It's horses 24/7. Most guys don't understand why you'd rather spend 10 hours in your barn with your horse, in s**t up to your knees, then come visit them. But when you're a horse girl, that's it!" she shared.