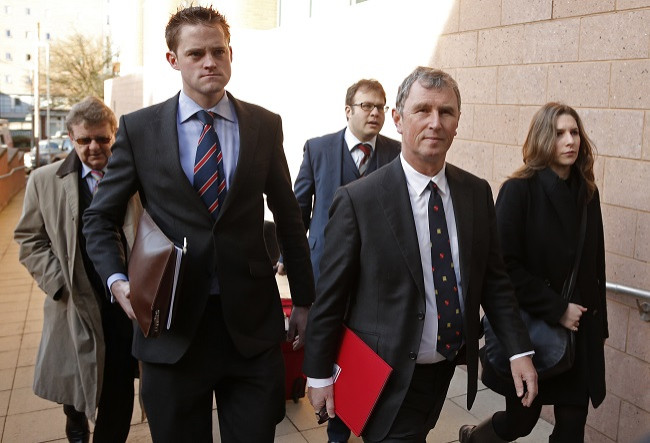 After the reignited expenses row and allegations of sexual harassment and drunkenness it is difficult to imagine the reputation of Britain's political class could fall any lower.
Only days after minister Maria Miller was finally and reluctantly removed from her job over her expenses claims and obstructive behaviour, the "Palace of Sexminster" revelations engulfed Westminster.
Former Commons deputy Speaker Nigel Evans had been cleared of a series of sexual abuse charges, including rape, some of which were alleged to have taken place in Westminster.
Evans was landed with a £130,000 defence bill, which he wants the Crown Prosecution Service to repay, and he is calling for possible anonymity of the accused in such cases and a time limit on the police pursuit of historical cases.
But, while the widely liked MP was cleared the coverage of his case, when combined with the other allegations, helped paint a grim picture of a booze-fuelled, anything goes culture in Westminster.
The Mail on Sunday alleged that a gay sex party was organised at the 2011 Conservative Party conference in Manchester paid for through MPs expenses, which ultimately come out of the taxpayer's pocket.
David Cameron was informed and ordered an investigation which, it is claimed, led to the resignation of Tory official Iain Corby as head of the Westminster-based Parliamentary Resources Unit (PRU), another taxpayer-funded enterprise.
Meanwhile, the appalling sexual abuse by the Liberal Democrats' former Rochdale MP, Cyril Smith, has been detailed in a new book by his successor in the constituency, Tory MP Simon Danczuk.
The book claims Smith, who had long been the source of rumour about his behaviour, used his position to sexually abuse boys and escape prosecution.
There have now been demands to know exactly what the party leadership knew about him and for his knighthood to be posthumously removed.
And the affair surrounding Liberal Democrat Lord Rennard's harassment of female members of staff still hangs over the party.
While there are obvious, major differences between all the various allegations, the cumulative impact has been to further tarnish the already grimy image of MPs at a time when anti-politics sentiments are at an all time high.
With voters understandably ready to believe the worst of politicians it comes as no great surprise that Nigel Farage's anti-establishment Ukip is riding at an all time high of 20% in the polls.
It took Tory backbencher Graham Brady rightly pointing out that, while there was a "problem" at Westminster, the scale was in danger of being exaggerated.
He stressed the vast majority of MPs behaved properly and treated staff with respect and dignity.
After the Miller affair, the prime minister pointedly insisted the Commons was full of "good and honest" MPs.
But deputy Labour leader Harriet Harman summed it up. "When we're making the laws that govern other people's behaviour and we don't seem to be able to behave ourselves [is] why we need to put ourselves in order," she said.
For those who believe parliament is an honest place full of decent people attempting to do a good job serving their constituents, it is an uphill and thankless battle.
And it will be the electorate who end up paying the price if the upshot is to see fringe parties with their own questionable behaviour and dubious and dangerous politics end up winning disproportionate power.