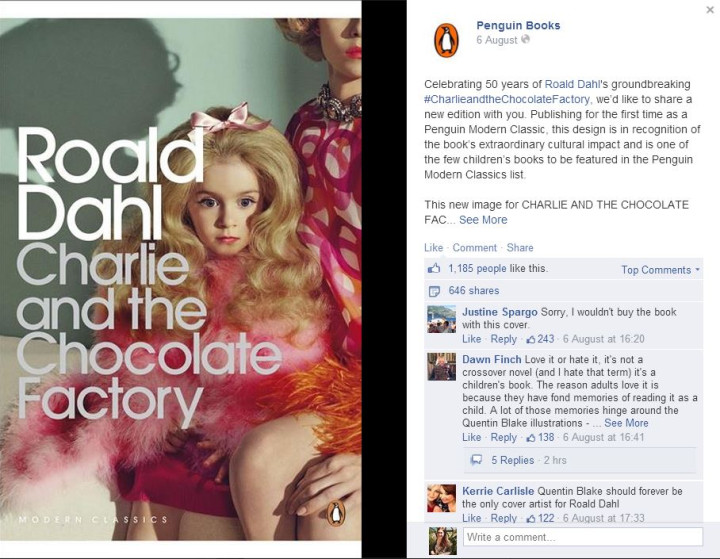 Roald Dahl fans have reacted with confusion and horror as publishers Penguin revealed the cover for their new edition of Charlie and the Chocolate Factory.
The new design has been created to celebrate 50 years since the classic children's book was published, but Facebook users – who were first to see the new cover – have said they are "disappointed" with the company for overtly "sexualising what is supposed to be a children's novel" in a "creepy" way.
Comparisons have been drawn to Vladimir Nabokov's Lolita, a book about the protagonist's sexual obsession with young girls, as the cover depicts a heavily-made up child with long blonde hair, sitting with her equally doll-like mother, whose bare legs also dominate the cover.
The Penguin Modern Classics edition is aimed at the adult market and, according to the publisher, the unsettling image reflects the way Dahl's writing "manages to embrace both the light and dark aspects of life."
The girl is not intended to be either Violet Beauregarde or Veruca Salt, the spoiled female characters in the beloved novel, but is in fact a representation of the "twisted" parent-child relationships depicted in the book, say Penguin.
Penguin unveiled the cover, which has been approved by the deceased author's literary estate, on its Facebook page after first posting the image without the title and asking users to guess which novel it accompanied.
When it was revealed to be Charlie and the Chocolate Factory, the backlash was immediate.
Award-winning children's author Giles Paley-Phillips said: "I'm not sure why adults need a different cover anyway, but who was it who decided that 'adult' meant 'inappropriately sexualised'?"
Others deemed it "grotesque" and "distasteful and disrespectful to a gifted author and his work" calling for Penguin to rethink the cover entirely and offering alternative suggestions.
The edition will be available for sale from September 4.