Shaker Aamer, the last remaining British prisoner in Guantanamo Bay, is to be released after 13 years, the government has announced. Aamer had been held inside the detention camp in Cuba since 2002 without being charged or put on trial despite twice being cleared for release during the Bush and Obama administrations.
Campaigners have fought for the release of the 46-year-old over concerns he is now suffering from post-traumatic stress disorder (PTSD) as a result of "barbaric treatment, including extensive torture, for more than a decade".
Shadow chancellor John McDonnell previously described Aamer's case during a parliamentary debate as one of the "worst cases of a miscarriage of justice in the last three decades".
A government spokesperson said: "We have regularly raised Mr Aamer's case with the US authorities and we support President [Barack] Obama's commitment to closing the detention facility at Guantanamo Bay.
"In terms of next steps, we understand that the US government has notified Congress of this decision and once that notice period has been concluded, Mr Aamer will be returned to the UK."
Soon after the 9/11 attacks in 2001, Aamer was detained in Afghanistan accused of fighting at Tora Bora, a military engagement that took place at the beginning of the War on Terror. He was transferred to Guantanamo in 2002 after spending time in Bagram Airfield, a US military base in Afghanistan. He denies being involved in terrorist activity and says he was in Afghanistan to conduct charity work.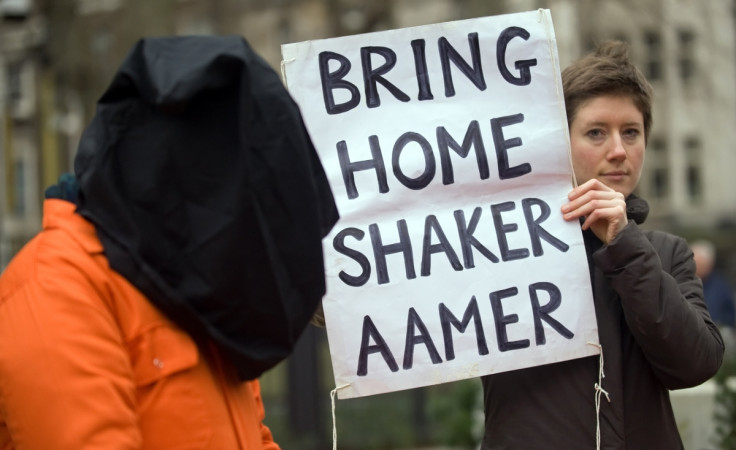 Responding to news Aamer is set to be returned to the UK, Amnesty International UK director Kate Allen said: "The news is a huge relief – for his family and his supporters, all of whom have worked tirelessly to get Shaker Aamer out of Guantanamo.
"In the past Mr Aamer has reportedly been at death's door during a hunger strike and his return to his family in Britain won't come a moment too soon. The immediate focus should now be on providing medical and other support for Mr Aamer on his return to the UK, but let's not forget that his 13-year ordeal at Guantanamo has been an absolute travesty of justice.
"Shaker Aamer is the last UK resident to finally get out of Guantanamo and his return to Britain brings a long, painful chapter to a close. But let's not forget that more than 100 detainees will still be left at the camp after Mr Aamer comes through Guantánamo's gates. This is far from over. The USA must promptly charge all the remaining detainees with recognisably criminal offences and ensure they receive a fair trial before a federal civilian court, or safely release them."
Clive Stafford Smith, Aamer's lawyer, added: "This is great news, albeit about 13 years too late. But they [British government] only just gave notice to congress, so that means that without robust intervention Shaker and his family have to wait until October 25th at the earliest for their reunion. The UK must demand of President Obama that he should be on a plane tomorrow, so that Shaker's family do not have to endure more of the agony of waiting, uncertain every time a phone rings.
"British politicians may bombasticate about our 'robust and effective systems to deal with suspected terrorists' but Shaker is not and never has been a terrorist, and has been cleared by the Americans themselves for 8 years. I hope the authorities will understand that he has been tortured and abused for more than a decade, and what he wants most is to be left alone with his family to start rebuilding his life."