Shannen Doherty has confirmed that she has finished her cancer treatment.
The former Charmed actress was diagnosed with breast cancer in February 2015 and has been keeping fans informed online every step of the way during her journey.
She took to Instagram after undergoing both chemotherapy and radiotherapy as she now faces a wait to find out if the treatment has been successful.
Uploading a photo, the 25-year-old wrote alongside it: "Last day of chemo. Exhausted. Now that I'm done with chemo and radiation, the waiting game is here. Waiting for test. Waiting to see if I'm clear or not. Waiting for reconstruction. Waiting.
"I think when one gets cancer, they are always waiting to a certain extent. To those who know… I'm waiting with you."
She signed off using the hashtag "cancer slayer".
The one-time child star who found fame in Little House on the Prairie and later in Beverly Hills 90210, previously opened up about her fear over beginning the gruelling treatment.
She said: "First day of radiation treatment. I look like I'm about to make a run for it which is accurate. Radiation is frightening to me.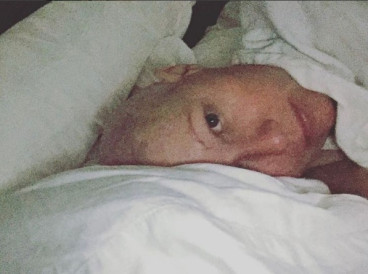 "Something about not being able to see the laser, see the treatment and having this machine moving around you just scares me. I'm sure I'll get used to it but right now… I hate it."
She also previously shared a video of her visit to a reconstructive surgeon in order to increase her tissue expander — a health measure taken before commencing radiation therapy.
In the clip, she explained:"This is Dr Jay Orringer, who is my reconstructive surgeon and my friend. What he's doing is I have an expander in. And because I'm starting radiation soon, he has to over expand me to make this placeholder larger because radiation shrinks it."
Orringer, Doherty's surgeon, further explains the reason for the expansion. "Radiation acts like a shrinkwrap effect around the expander. Whether you lose 20% volume or 30%, it's difficult to know," the doctor explains.