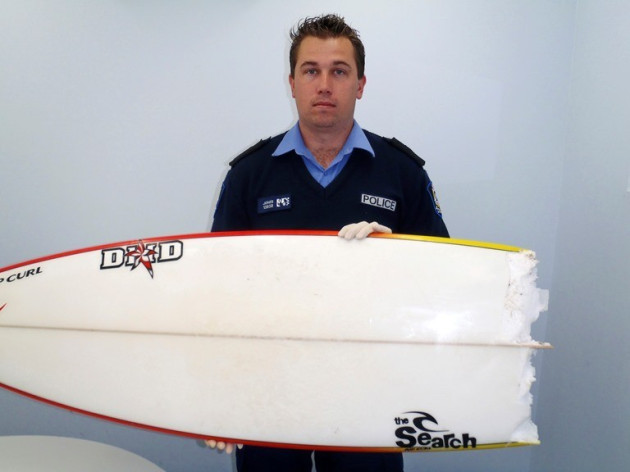 A shark attacked and killed a surfer near the Margaret River town of Gracetown, Western Australia (WA) just hours after celebrity chef Heston Blumenthal swam in the same waters.
According to witnesses, the victim, who has not been officially named but is said to be in his 20s, was surfing alone in an area called Lefthanders or "Lefties" when the shark attacked and tore off an arm. The man was dead when he was pulled to shore.
Surfer Tom Jones told ABC News: "Cop cars rolled up at Lefties and we thought definitely another shark attack. I know of him, and he was pretty young to die."
The Department of Fisheries issued an "imminent threat" order on the shark and said a full assessment would be carried out if the creature were caught.
It was the third fatal shark attack in the Lefties area - 270km south of state capital Perth - in the last decade and the 10th deadly shark attack off WA since 2004, making it one of the world's most dangerous regions for shark attacks.
Blumenthal had apparently been swimming in the same area just hours before the attack, even though he told a local news service that he was too nervous to go in.
Interviewed by WA Today prior to the Gracetown attack, Blumenthal, in town for the Gourmet Escape Festival, said he would love to surf in Margaret River but was nervous after reading about Pickering's experience.
"I read this story about this guy, apparently the only living human being been attacked by a shark twice and he survived. So I hope to sample some of the abalone but I'm certainly not going fishing for them."
In 2004 surfer Bradley Smith was taken by a great white in the same area and surfer Nicholas Edwards was killed at nearby South Point in August 2010.
Just weeks ago surfer Greg Pickering was attacked by what was described as a five-metre Great White off the coast of Esperance, WA. Pickering suffered serious injuries when the shark tried to bite off his head.
He had previously been attacked by a shark in another part of WA - Cervantes - in 2004, making him the only person known to have survived two shark attacks.
READ: