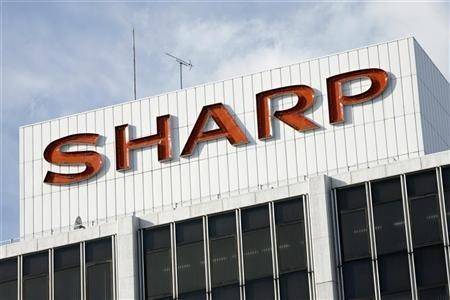 Sharp is expected to announce today that it is selling part of the compnay to US chip maker Qualcomm, in a deal that will see the companies work together on the new IGZO display technology.
Bloomberg sources who are familiar with the plan said the partnership would see Sharp sell 5 billion yen (£38m) of new shares to the San Diego-based chip maker before the end of the year, giving Qualcomm a 2.6 percent stake in Sharp.
If it goes ahead as expected, the deal will have come at a vital time for Japan's largest LCD manufacturer, which lost 103bn yen in cash from operations in the first half of 2012 due to falling sales, a strong yen and mounting pressure from Asian rivals Samsung and LG.
Although not yet confirmed, the news pushed Sharp's shares up 1.7 percent to 175 yen in Tokyo today, but the company will need more success than that, as its stock price has fallen 74 percent this year alone.
Elsewhere, Japanese newspaper Nikkei said the two companies will jointly promote development of energy-efficient displays for smartphones, but failed to disclose its sources.
The expected announcement falls in line with a similar report last week - this time from the Wall Street Journal - claiming Sharp was in talks with Dell and Intel, as well as Qualcomm, with the intention of selling a stake in itself and in return provide a stable supply of its new IGZO display technology.
Last chance
IGZO is seen as Sharp's last chance of recovery in the consumer technology industry and uses a new manufacturing technique to produce power efficient screens with high pixel density and with more accurate and sensitive touch control.
In return for its IGZO technology, the WSJ claimed Sharp is looking for investment of up to 20bn yen (£152m) from Dell and Intel, with discussions between itself and Qualcomm also in the works.
Kyodo News said on 13 November that Sharp was in final talks with Intel to get an investment of as much as 40bn yen, a move that would make the US company Sharp's largest shareholder, but the company said a day later it was not the source of the report and nothing had been decided with Intel.
In October Sharp announced that it was finding it difficult to raise money and issued a warning to investors, forecasting a loss of 450bn yen for the year ending in March 2013.
Sharp, as with fellow Japanese firm Panasonic, is looking to restructure its business in an attempt to return to profitability, but a rising yen, falling sales and the hangover of flooding in Thailand last year, which significantly affected many Japanese supply chains, have all contributed to a poor year.
With its stock now at junk status, Sharp will find it difficult to raise fresh much-needed capital from investors.
IGZO technology
The new IGZO display technology Sharp is banking on selling to Dell and others stands for indium gallium zinc oxide, which is used to manufacture the efficient and high resolution screens.
By being more efficient that other technologies, IGZO screens could help to increase battery life of smartphones, tablets and laptops, and Sharp executives are promoting the technology as a potentially game-changer, one of the WSJ sources said.
Unfortunately, Sharp has struggled with low production yields for the displays, limiting the availability and increasing manufacturing costs.
Sharp's struggles are mirrored across much of the Japanese technology market, with Panasonic recently stating it will lose almost $10bn (£6.2bn) this financial year as new boss Kazuhiro Tsuga prepares for a round of restructuring.
It's a similar story at Sony, which posted a second-quarter loss of $198m on $20.5bn revenue, which is an improvement on previous quarters, but the company is also undergoing major restructuring.
Must read:
Japan Humbled: Sony, Panasonic and Sharp Lose Out to Asian Neighbours