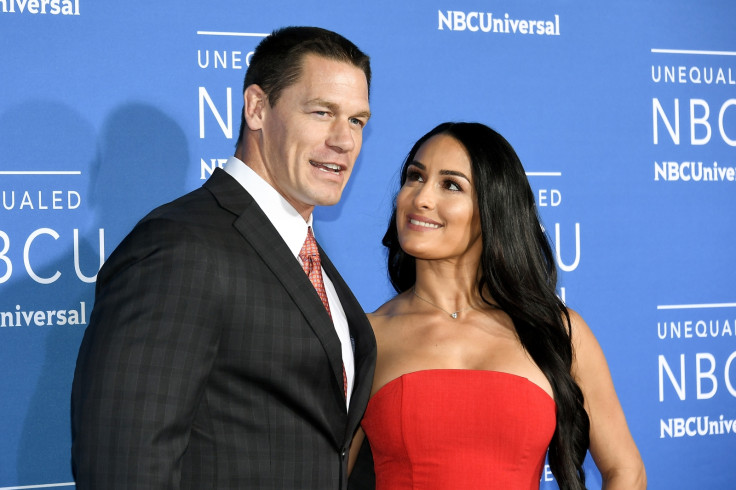 WWE champ John Cena is not the one to shy away when it comes to his much-talked about romance with fellow wrestler Nikki Bella. He pleasantly surprised viewers when he turned the WrestleMania 33 ring into a romantic place to propose to his long-time girlfriend. And like many fans, Cena just can't get enough of that adorable moment.
Speaking on the The Kyle & Jackie O Show ahead of his Australian tour, the American wrestler opened up about popping the question to Bella and the preparations that he put in, just in case the 33-year-old turned down his proposal.
"I kinda balanced two birds with one stone," Cena told the radio hosts when asked about managing time amid his hectic schedule. "I proposed at Wrestlemania, so I was at work anyway." The 39-year-old wrestler took the world by storm when he got down on one knee and asked Bella to "marry" him with a gigantic diamond ring.
While the gesture was super romantic, a lot was at risk too, considering millions were glued to the television after the wrestling duo's successful match against rivals Miz and Maryse.
"Was there any part of you that thought, what if she says no? It was such a public forum and such a public way to do it," co-host Jackie 'O' Henderson asked, to which Cena replied, "We've been together for about four and a half years and I figured at that point if I was to go down in flames, I would go down swinging!"
As the wrestler-and-actor talked about the perfect proposal in the middle of the ring, he couldn't help but gush over his fiancée. "She'll kick a guy's a**," he said about Bella, adding, "She's very, very tough and I wouldn't have it any other way. She certainly keeps me in my place and I dig that."
The 16-time WWE champion proposed to the Total Divas star on 2 April in front of a live audience after a WrestleMania match.
"My Prince Charming made me his Queen in a place we call home," Bella later shared on Twitter with an adorable collage of the couple's best moments. She added, "Last night was truly unforgettable. A dream come true."