Update: As it turns out, John Cena did go ring-shopping after all. The WWE star popped the question to his long-time girlfriend and fellow wrestler Nikki Bella on Sunday (2 April) after the tag team won against The Miz and Maryse at WrestleMania.
Watch the adorable moment, where Bella gets emotional and kisses Cena — after saying yes — above.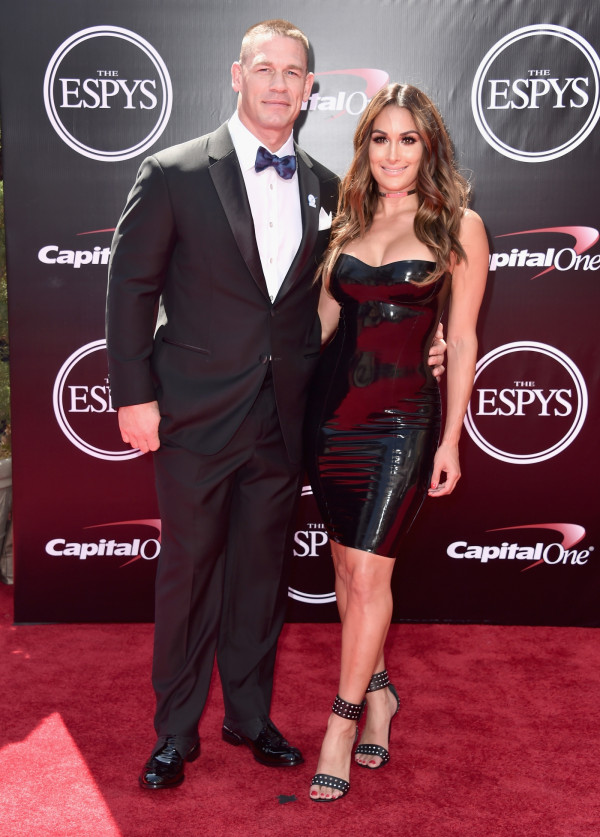 WWE power couple John Cena and Nikki Bella are headed for an exciting match on Sunday (2 April) as they face The Miz and Maryse at WrestleMania 33. Ahead of the big match, buzz is that the 39-year-old wrestler may finally pop the question to his long-time girlfriend. While fans will be hoping Cena takes the plunge, the WWE champion is still keeping them on their toes over the rumoured proposal.
The multi-talented wrestler opened up about his relationship with Bella during a recent interview with Hollywood Life. Although he did not shy from gushing about the Divas champion, he chose to remain tight-lipped when asked about the much-anticipated proposal following Sunday's match.
"She drives me," the actor-cum-rapper gushed about his girlfriend. "She inspires me and we learn from each other every day. It is amazing, all the stuff you don't see that happens. On top of that, I am head over heels for her and she loves this business just as much as I do. So for both of us to be in there, it is special — it really is! It really is."
The 16-time WWE Champion has been a part of several WrestleMania events, but when he was asked which was his best, he said he is looking forward to the upcoming match as he will take the ring with the love of his life.
"You can mention that I've headlined with The Rock, and I have been part of a lot of WresleMania moments, but this moment tomorrow, to me, is the most important of all because I get to spend it with the person I love and do what I love," Cena gushed.
He also spilled the beans on his favourite moment in the ring. "Everyone always asks me what is my favorite match and the answer is always the same — the next one. But when you ask me that after Sunday, my answer will be: The second I was in a WrestleMania ring alongside Nicole and kicking some butt," he explained.
Meanwhile, the buzz seems to have reached the ears of 33-year-old Bella aka Stephanie Nicole Garcia-Colace. As speculation over the WrestleMania proposal gained momentum, she weighed on the possibilities.
"This is the thing, he's been extremely busy lately so I know he hasn't gone ring shopping," the professional wrestler said, but she is not losing hope altogether. "There's no way. And, I mean, I don't know. I really have no idea. I think it's just an easy thing to say and guess and be like 'oh, that's the reason why they're doing that.' I don't know," Bella added.
While the duo are still keeping the world guessing, fans cannot wait to see the couple get engaged. "John better propose to Nikki at WrestleMania," one user commented on their YouTube video, while another added, "It would be so perfect if he proposed to her. Please do it John."