Shell Selling Out? Oil Giant Can't Just Wash Hands of Niger Delta Spills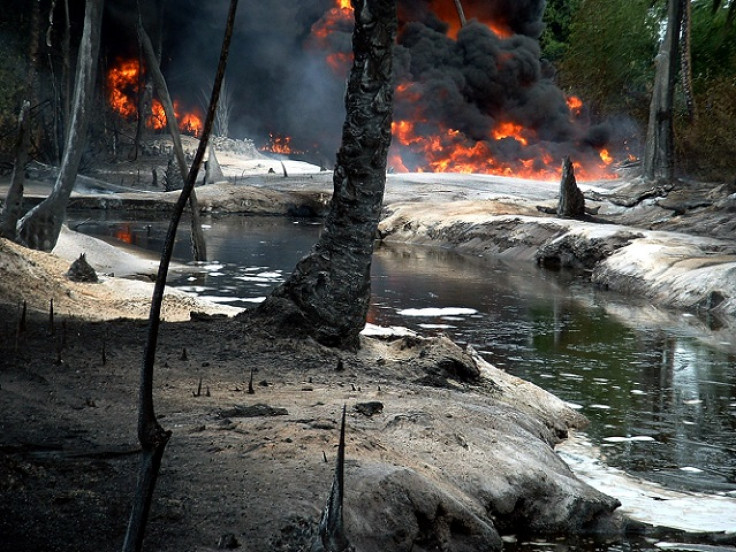 Recent reports that Shell plans to sell onshore assets in Nigeria have sparked concerns that it could pull out of the country, leaving behind a legacy of devastating pollution. But there are a few things the oil giant should consider before trying to divest its way out of trouble in the Niger Delta. And for any potential purchaser – it's a case of buyer beware.
It has been attempted before. A massive gas leak at Union Carbide's Bhopal factory in 1984 caused thousands of deaths and left tens of thousands of people with serious health problems. The company left without paying proper compensation to survivors of the leak and the families of those who died, and without cleaning up its contaminated factory site.
To this day, Bhopal ranks as India's worst industrial disaster and has haunted Union Carbide Corporation (UCC) ever since. In 2001 The Dow Chemical Company bought UCC and merged much of UCC's business with its own. The taint spread to Dow, which has faced years of criticism over the failure of its wholly owned subsidiary to deal with Bhopal. Both companies' names are now inextricably linked with the unresolved disaster and Dow has been drawn into a number of legal actions.
The case of Chevron/Texaco and Ecuador is another case in point. In 2001 Chevron bought Texaco and inherited a long-standing battle over allegations that Texaco's operations caused massive oil pollution in Ecuador which the company left without cleaning up. Chevron has found itself in court – and in the media – for over a decade, in costly battles that bear several similarities to Bhopal and the Niger Delta.
In the mid-1990s the government of Ecuador certified the environmental clean-up done by Texaco and released the company from further environmental liability. But such government releases – when given in cases where the basic problem is unresolved – may not guarantee indemnity. Ongoing pollution remained an issue, and the affected communities sued.
In 2013 Chevron was ordered by Ecuador's Supreme Court to pay $9.5 billion in damages and clean-up costs. The company maintains the judgment is illegitimate and not enforceable, and has obtained decisions in international arbitration and US court proceedings to support its position, in part because of the earlier agreement between Texaco and the government. But legal actions to enforce the Ecuadorian judgment continue.
Selling an asset does not mean selling the liability – neither in reputational nor legal terms. Even after they divest, lawsuits can follow both Royal Dutch Shell and its Nigerian subsidiary. Individuals can sue a company that harmed their lands and livelihoods if they can establish that the company owed them a duty of care and the company's failure to fulfil this duty caused the harm.
There is little doubt that an oil company has a duty of care to prevent oil spills from harming local people's lands and livelihoods. Shell's Nigerian subsidiary is currently in court in both the UK and the Netherlands over oil spills in the Niger Delta. In the Dutch case the plaintiffs successfully established the jurisdiction of Dutch courts over both the parent company, Royal Dutch Shell, and the subsidiary in relation to events in the Niger Delta, setting an important precedent for other foreign victims of abuse by Dutch multinational companies.
Shell can't shake these legal headaches just by pulling out of the Delta. Such litigation could be pursued even if Shell sold all of its assets in Nigeria because the harm occurred while it still owned the assets.
Undoubtedly there are some significant challenges to pursuing legal action against Shell. But these challenges are not insurmountable. And the efforts to overcome them will not stop. Legal action in Europe appears to offer a least some hope for people whose attempts to get justice through non-judicial processes or Nigerian courts have hit a dead end. Efforts by Amnesty International to have a meaningful dialogue with Shell about these issues stretch back more than a decade, and were as fruitless as they were frustrating.
Shell's narrative on the Niger Delta is that it is a good company doing its best in very difficult circumstances. But Shell is the principle architect of those circumstances - hundreds of unresolved oil spills and years of making payments to people with little or no transparency have been catastrophic for the area. Shell is very far from doing its best to deal with the problems it largely created. Much of its energy goes on attempts to recast the problem to portray itself as a victim.
One of the main stumbling blocks to legal claims against Shell is its consistent assertion that sabotage and theft are causing the vast majority of oil spills. Extensive research published by Amnesty International in November 2013 debunks this claim. In the Niger Delta, it is the oil companies – the potentially liable party – that get to decide what caused a spill. The conflict of interest is stark. More spills are caused by Shell's aging infrastructure than the company is willing to admit.
Legal challenges to Shell's sabotage defense are also emerging as people pursue civil litigation over oil spills. In January 2013 a Dutch court ruled in favour of one of several Nigerian farmers who had sued Shell over damage to their property, finding that Shell Nigeria had breached its duty of care in that case by failing to take reasonable action to prevent third parties tampering with oil wells and causing oil spills. This ruling is currently being appealed by Shell.
Appeal notwithstanding, the Dutch ruling has wider ramifications for Shell's operations in the Delta. The extent to which the company is acting to prevent sabotage is now being closely monitored by civil society and community activists.
While Shell cannot divest its way out of its liability for decades of pollution in the Niger Delta, any company buying its assets should think twice. They will almost certainly be investing in operations on deeply polluted land on which people are living.
There is little doubt that Nigerian regulators will certify sites as cleaned up when they are not – they have done so frequently. But scientific studies by the UN and others have exposed false claims by both Shell and the regulators about site clean-up. Relying on such assurances would be very poor due diligence indeed.
Buying assets from Shell in the Niger Delta would also constitute serious human rights negligence. The UN and NGOs have laid out extensive evidence that the land and water is polluted. The communities have been cheated out of meaningful restitution while Shell has unjustly enriched itself. Buying Shell's toxic Nigeria assets means purchasing one of the world's worst environmental disasters from one of the architects of that disaster.
Union Carbide and Dow continue to learn this the hard way over Bhopal. Two decades after Texaco left Ecuador, Chevron is still facing lawsuits.
The only way to make problems like these go away is to fix them. In the Niger Delta, that means dealing with the pollution.
Audrey Gaughran is Amnesty International's Director of Global Issues. Visit the Amnesty website to find out more about their current campaigns to promote justice and tackle abuse around the world.
© Copyright IBTimes 2023. All rights reserved.