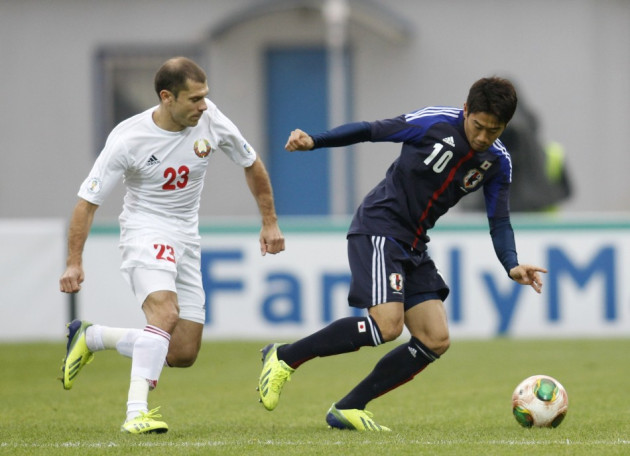 Manchester United playmaker Shinji Kagawa has opened fire on manager David Moyes after blaming his poor form for Japan on his infrequent appearances during the Scot's reign at Old Trafford.
Having already secured qualification for the 2014 World Cup, Japan played two friendlies across the international break, succumbing to defeats to Serbia and Belarus.
Kagawa started both games but was ineffectual throughout as he continued to occupy an unnatural wide-left position. Japan play Netherlands in November as they continue their build-up to next summer's finals.
After making 30 appearances in all competitions under Sir Alex Ferguson during his first season at United, the 24 year old has started once in the Premier League this term.
The United faithful have made no secret of their disappointment at Kagawa being marginalised and the Japan international says his poor form for his country of late is linked with a lack of club appearances.
"Personally, I felt strongly after these two matches that I need to play more and, as a team, there are many things we need to do," Kagawa told reporters in Japan after a second successive loss to Belarus.
"So we all need to go back to our European or J-League clubs and take what we learned in these two matches and work to fix those problems.
"There's a matter of fitness and there's also that atmosphere of playing for my country.
"It's different from the atmosphere at United, but you still get a good feel for being on the pitch when you play regularly.
"Maybe it's because I'm not used to being on the pitch of late, but I didn't feel like I was able to enter these two games properly. During tough times like these I have to improve myself."
United have begun their defence of the Premier League title in uncertain fashion, winning just three of their opening seven league games with defeats to Liverpool, Manchester City and West Bromwich drawing questions regarding Moyes' judgement in the summer transfer window.
Despite the sole addition of Marouane Fellaini, Kagawa has played a peripheral role this term, instead preferring to play Tom Cleverley, Ashley Young and Antonio Valencia with varied success.