Shinzo Abe optimistic about post-TPP bilateral trade framework talk with Trump
Friday's meeting came amid uncertainty about how Trump's 'America First' stand could affect Japan.
Japan's Prime Minister Shinzo Abe and US President Donald Trump agreed on Friday (10 February) to discuss a bilateral trade framework after Washington's withdrawal from the multilateral Trans-Pacific Partnership (TPP) agreement.
The talks will help promote economic growth in the Asia-Pacific region, the leaders said in a joint statement released after the summit.
"We will seek a trading relationship that is free, fair and reciprocal, benefiting both of our countries," Trump said, while addressing a joint press conference after the meeting.
While, Japan's Abe said he was "optimistic" there would be good results post-TPP bilateral trade talk.
"I am quite optimistic that ... good results will be seen from the dialogue," he said, adding Japan will continue to "advance regional progress on the basis of existing initiatives".
"The president and I confirmed our strong resolve that we will create free and fair markets, based on rules, in the Asia-Pacific region," Abe said.
Friday's meeting came amid uncertainty about how Trump's "America First" agenda could affect Japan, which counts the US as its top export destination and defense ally.
During the talks, the leaders also confirmed their resolution to further strengthen the Japan-US defense alliance, which was mentioned earlier by the US Defense Secretary James Mattis when he visited Japan last week.
The joint statement also mentioned the leaders' decision in which they agreed that the United States will increase its presence in the Asia-Pacific region and Japan will "assume larger roles and responsibilities in the alliance."
In addition, Trump also reiterated his commitment towards defending the Japanese-administered Senkaku Islands from any Chinese aggression. The treaty obliges the US to "act to meet the common danger" if Japan comes under armed attack.
The deserted islands are administered by Japan but claimed by both China and Taiwan. In the statement, the leaders said they "oppose any unilateral action that seeks to undermine Japan's administration of these islands".
During the summit, the leaders also strongly urged North Korea to discard its nuclear and ballistic missile programmes.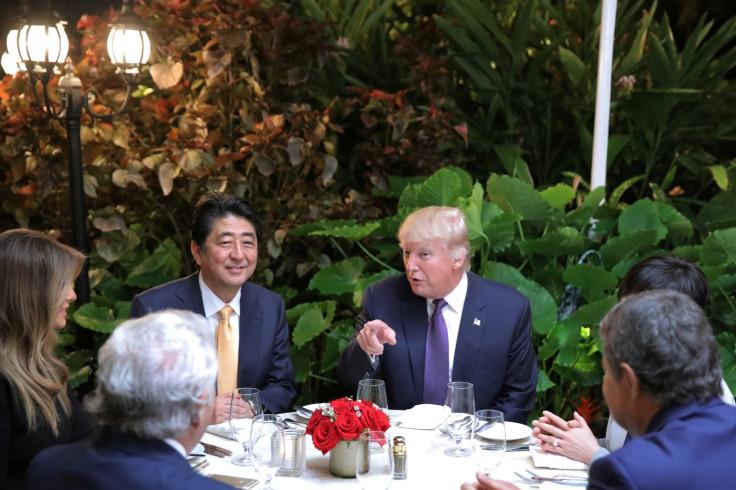 Following the meeting, the leaders left for Palm Beach, Florida, where Trump owns a vacation estate. The Republican leader hosted Abe and his wife at his Mar-a-Lago vacation estate and also invited the Japanese premier for golf.
On which, Abe said he was looking forward to playing golf with Trump.
The Japan's PM has also invited Trump to make an official visit to Japan before the end of the year.
© Copyright IBTimes 2023. All rights reserved.