Japanese Prime Minister Shinzo Abe arrived in the US on Thursday (9 February) night for his upcoming meeting with President Donald Trump. The two leaders are expected to discuss an array of issues, including trade and security ties, on Friday.
Japan's Foreign Minister Fumio Kishida and Deputy Prime Minister Taro Aso — who is also the finance minister, are accompanying Abe on this Washington visit.
Talks between Abe and Trump, who last met in Washington in November 2016 soon after the latter's election victory, are expected to primarily centre on import and export of Japanese cars, job creation and Japanese investment in the US.
The booming Japanese auto industry has been a sticking point between Japan and Trump, who recently criticised the Asian ally of not purchasing enough US-made cars. In December, the new US president also threatened Japanese carmaker Toyota with heavy border taxes if it went ahead with its plan to build a plant in Mexico.
The US' withdrawal from the 12-nation Trans-Pacific Partnership (TPP) trade pact after Trump took over the White House could also be discussed during the meeting. Japan is an active member of the trade group and Abe had lobbied hard for it. Military cooperation between the US and Japan will also be a key issue likely to be discussed on Friday, according to the BBC.
"I hope this summit meeting will be a message (to the world) that the Japan-US alliance will be stronger and tougher," the Japan Times quoted Abe as saying to reporters before he boarded a government plane at Tokyo's Haneda airport.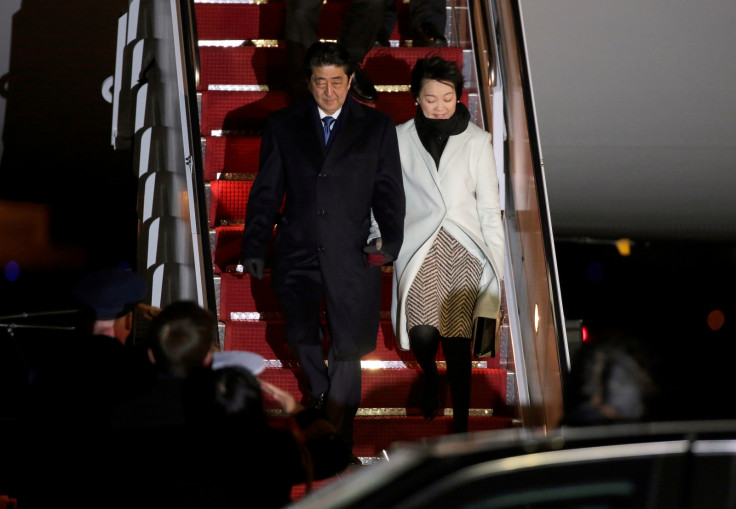 A senior US official reportedly said on Thursday that Trump is expected to reiterate his commitment towards defending the Japanese-administered Senkaku Islands from any Chinese aggression. "I would expect, certainly, for you to hear on that subject and in concrete terms that President Trump is committed to that treaty," the official noted.
The official also confirmed that auto trade will be "an important topic of conversation" between two leaders when they meet on Friday for their first official meeting after Trump's inauguration to the White House on 20 January.
The Japanese news daily added that following the official meeting, Trump will host Abe and his wife at his Mar-a-Lago vacation estate in Palm Beach, Florida, on Saturday where the two leaders are expected to play golf.
In addition to Trump and Abe's meeting, Kishida and his US counterpart Rex Tillerson will also hold their first face-to-face talks on Friday.