Firefighters are still struggling to contain the wildfires that have killed at least 23 people, destroyed 3,500 structures and left hundreds missing across northern California's wine country.
Shocking aerial photos show the devastating aftermath of the fierce wildfires that swept through Santa Rosa, the largest city in the state's wine country. House after house, block after block has been obliterated, leaving smouldering piles of ash dotted by brick chimneys and the skeletons of burned-out cars.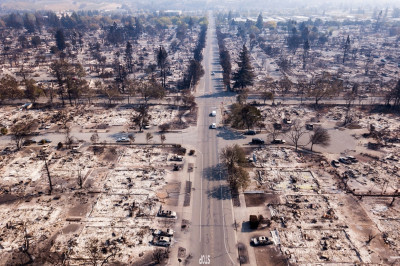 The fires moved so quickly that thousands of people were forced to flee with only a few minutes of warning. Some did not get out in time.
"It's literally like it exploded. These people ran out of their homes literally with minutes notice, barely with the clothes on their back," Ken Pimlott, chief of the California Department of Forestry and Fire Protection said, adding that authorities didn't have time to give more notice."They burned so quickly, there was not time to notify everybody."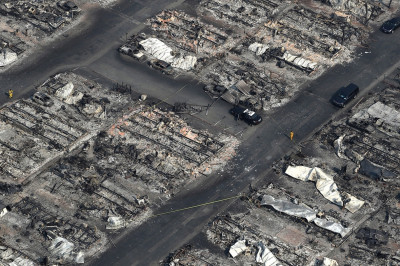 Nearly two dozen blazes spanning eight counties have charred around 170,000 acres (68,797 hectares). "It's like driving through a war zone," JJ Murphy, 22, one of thousands of evacuees, said of the area around his home in the Sonoma Valley community of Glen Ellen.
Flames were spread rapidly by hot, dry "Diablo" winds - similar to Southern California's Santa Ana winds - that blew into northern California toward the Pacific on Sunday night. The official cause of the fire has not been determined. But electric wires knocked down by those same winds may have sparked the conflagration, according to Daniel Berlant, spokesman for the California Department of Forestry and Fire Protection (Cal Fire). "That is definitely a possibility," he told Reuters. "Power lines are a common cause of fires during wind events."
The latest overall death toll is 23, including 13 in Sonoma County, six in Mendocino County and two more each in Napa and Yuba counties. This marks the greatest loss of life from a California wildfire since 25 people perished in a firestorm that swept the Oakland Hills in October 1991.
More than 550 people were still reported unaccounted for in Sonoma County on Wednesday morning, said Jennifer Laroque, a county emergency operations centre spokeswoman. It was unclear how many of the missing might be fire victims rather than evacuees who merely failed to check in with authorities. Officials urged displaced residents to let their family members know they were safe.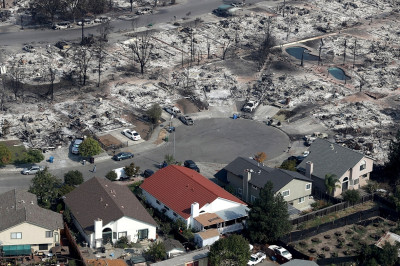 Wildfires have damaged or demolished at least 13 Napa Valley wineries, a trade group for vintners there said. But experts say smoke rather than flames may pose a greater risk to the delicate grapes still waiting to be picked.