Shocking photo of Moroccan migrants sleeping in washing machines goes viral
The teenagers have been described as "orphans of the streets" since their arrival in Goutte d'Or, Paris.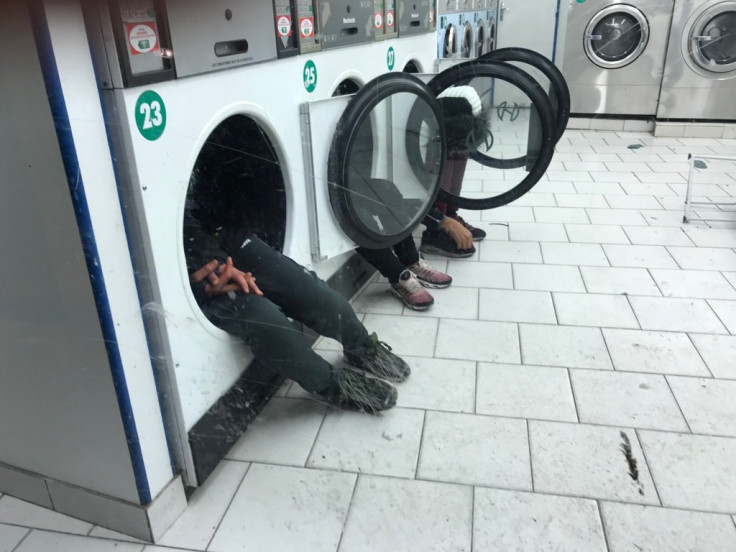 This striking photo shows the plight of young Moroccan migrants in Paris, who ended up sleeping with twisted bodies in launderette washing machines.
The photo was taken in Boulevard Barbès at about 6pm on 20 December by a Twitter user identified only as Christine. She told Le Parisian: "It touched me, I found it shocking to see these young migrants, at least one of whom was asleep, in this situation." She showed the photo to her friends and they advised her to post it on social media because it was so striking.
Posting the photo, Christine said it showed "isolated migrants seeking a little rest and warmth in a laundrette". She described them as the "street children" of Goutte d'Or, a neighbourhood in the 18th arrondissement near the Sacre Coeur, with a high number of North African residents.
Hundreds of people were moved when they saw the photo online. Christine said she had received messages from people who wanted to help, with some people asking what road the launderette was on so they could bring clothing and food.
But there were hateful comments too, with people saying the migrants should go home. One such user said: "They should have stayed in Morrocco...there it's warm..no need to crawl in a laundry machine...I have no sympathy for them.. no way.."
The owner of the launderette, Nathalie Humbert, also displayed little sympathy, telling Le Parisian: "They sniff glue and attack our employees. Some customers do not dare to come, the turnover of this laundry was divided by four. The police have been called countless times, but they say they can not do anything against them."
Around 80 young Moroccan migrants, aged between around 14 and 17, currently call the streets of Goutte d'Or home. Authorities have begun taking action; just two weeks ago, the Paris Council voted to grant €684,967 (£607,489) to tackle the issue with help from various associations, while Amesip (Moroccan Association for Assistance to Children in a Precarious Situation) is searching for the families of the underage migrants to try and end their time on the streets.
Dominique Versini, deputy mayor of Paris in charge of child protection, said many of the minors had committed violent acts. She added: "They are dangerous for themselves and others, in poor physical condition, plagued by different addictions."
Valerie Goetz, main commissioner of the 18th arrondissement, described the youths as "orphans of the streets," the likes of which have not been seen in Paris since the Second World War. Also expressing concern about crime, she told Le Parisian: "At first, they were content with petty theft but now they went to pickpocketing, tearing necklaces, burglaries."