An angry Chicago police officer can be heard snarling "b***h a** motherf*****r" as an unarmed black teens lies mortally wounded in a police shooting on a shocking video just been released by an independent police panel.
The video, one of six released from police body cameras, was so disturbing that city officials have warned of possible violent street protests and retaliation against police.
At least 15 shots were fired at 18-year-old Paul O'Neal on 28 July as he sped from police in a Jaguar he had stolen. He crashed into a squad car before fleeing the vehicle as police continued to fire at him.
At least one officer thought the teen had fired on police, but in fact it was "friendly fire" by other officers as they shot at O'Neal, who was unarmed.
"Get your hands behind your back. F***ing shoot at us," says an officer to O'Neal who lies on the ground bloodied and mortally wounded with a gunshot wound in his back.
Then the cop asks his fellow officer: "They shot at us too, right?"
Another officer can be heard to say: "I shot at the car after it almost hit you. Dude, I heard shots and f****ing shot at him."
The police handle O'Neal roughly as they hold him down and handcuff him. He appears to be unresponsive. An officer can be heard to angrily complain that he'll now "be on desk duty for 30 days."
Sharon Fairley, head of the Independent Police Review Authority that released the videos, described them as "shocking and disturbing."
O'Neal is believed to have been mortally wounded by an officer in the car he crashed into, according to officials. That moment, however, was not caught on camera. It's unclear if the jolt from the crash rendered the camera inoperable, or if the officer never turned it on.
The videos were shown to O'Neal's family before they were released to the press. Ja'Mal Green, a family spokesman, told CNN that O'Neal's mother and sister walked out.
"I really want everybody to know that Paul was loved by my mother, his family, me," said O'Neal's sobbing sister, Briana Adams. "I want everybody to know that Paul had goals."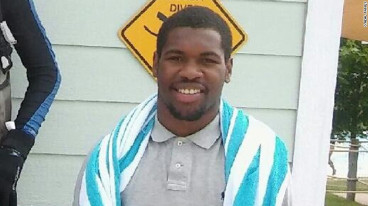 Michael Oppenheimer, who's representing the family, said what he saw was "street justice," with the police playing "judge, jury and executioner."
Three police officers have been suspended and O'Neal's family has filed a federal civil rights lawsuit against the officers, accusing them of firing at the teen "without lawful justification or excuse."
Chicago is still grappling with the 2014 Laquan McDonald shooting that resulted in a muder charge against a police officer after it took more than a year for the city to release his car camera footage of the shooting. A mayoral task force has accused the police of widespread racism.