Two giant mysterious craters have appeared in northern Siberia, with officials suggesting they may have been created by an underground explosion.
Reports of the two new holes emerged only a few days after another crater, reportedly the size of several MI-8 helicopters, was spotted in the Yamal peninsula, known to locals as "the end of the world".
The first of the two new holes has a diameter of about 15 metres and is located in Yamal's Taz district. The second is in the Taymyr Peninsula, east of Yamal, and its diameter is estimated to be more than four metres.
Deputy of the regional parliament Mikhail Lapsui, who inspected the second of the two new craters, told the Siberian Times residents believe the hole formed in September last year. However, its existence was not known until July 2014.
"Its diameter is about 15 metres.There is also ground outside, as if it was thrown as a result of an underground explosion," he said.
"Observers give several versions. According to the first, initially at the place was smoking, and then there was a bright flash. In the second version, a celestial body fell there."
The chief scientist of the Earth Cryosphere Institute, Marina Leibman, told URA.RU website: "I have heard about the second funnel on Yamal, in Taz district, and saw the pictures.
"Undoubtedly, we need to study all such formations. It is necessary to be able to predict their occurrence. Each new funnel provides additional information for scientists."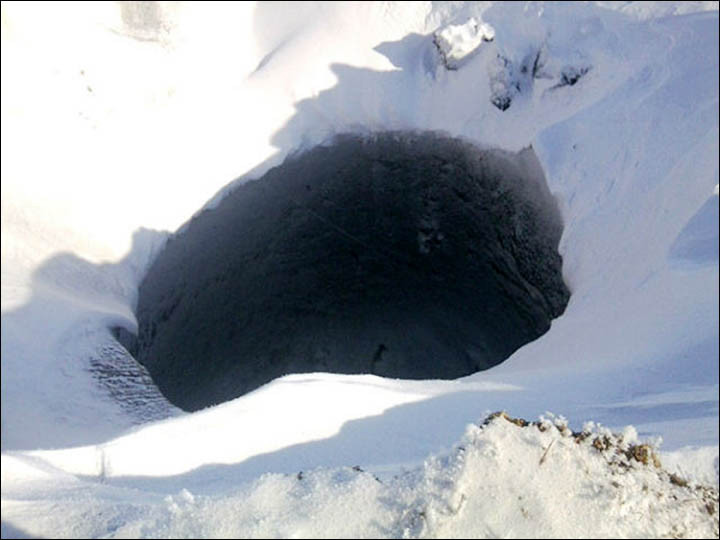 According to Eric Holthaus, a meteorologist writing for Slate, the holes could have been formed due to climate change.
"In general, the whole Arctic region is the fastest warming place on the planet, warming about twice as fast as global averages," he said. "A study published last year said the Arctic hasn't been this warm in at least 120,000 years."