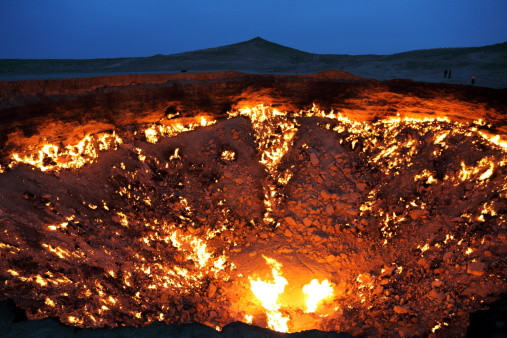 Turkmenistan authorities plan to use the country's so-called "door to hell" crater to boost tourism to the central Asian state.
The 230-feet-wide burning pit in Karakum desert, known also as the Derweze crater, could be developed into a key tourist attraction for the country, which attracts 12,000-15,000 tourists each year.
The crater – located 270 kilometres from the capital Ashgabat– was accidentally created by Soviet geologists drilling for gas in 1971.
"The boring equipment suddenly drilled into an underground cavern, and a deep sinkhole formed. The equipment tumbled through but fortunately no one was killed," Turkmen geologist Anatoly Bushmakin said.
"Fearing that the crater would emit poisonous gases, scientists took the decision to set it alight, thinking that the gas would burn out quickly and this would cause the flames to go out."
The crater, however, is still burning today.
"The burning crater ... is attracting more and more interest every year, especially among foreign tourists," an official on Turkmenistan's state committee on tourism told AFP.
"The 'lifeless' desert could soon become a hugely interesting destination for different types of tourism — from eco-tourism to extreme sports."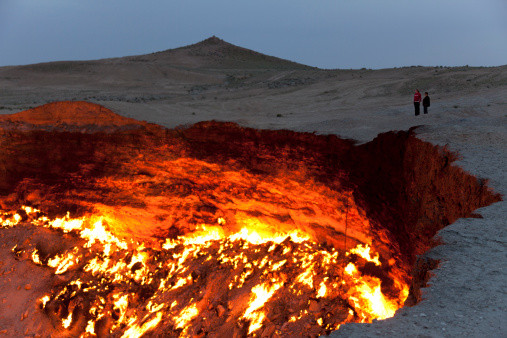 Ovez Kurbanov of the National Institute of Deserts, Flora and Fauna, agrees: "Landmarks such as the burning crater are hugely interesting both to people who love to travel and to researchers in various areas.
"Our main task is to create an attractive image of Turkmenistan as a tourism destination."
According to Gozel Yazkulieva, a 34-year-old visitor from the Turkmenistan capital Ashgabat, the crater "takes your breath away. You immediately think of your sins and feel like praying".
Turkmenistan's president, Gurbanguly Berdimuhamedow, visited the site in April 2010 and ordered that the hole should be closed, but this has not yet happened.