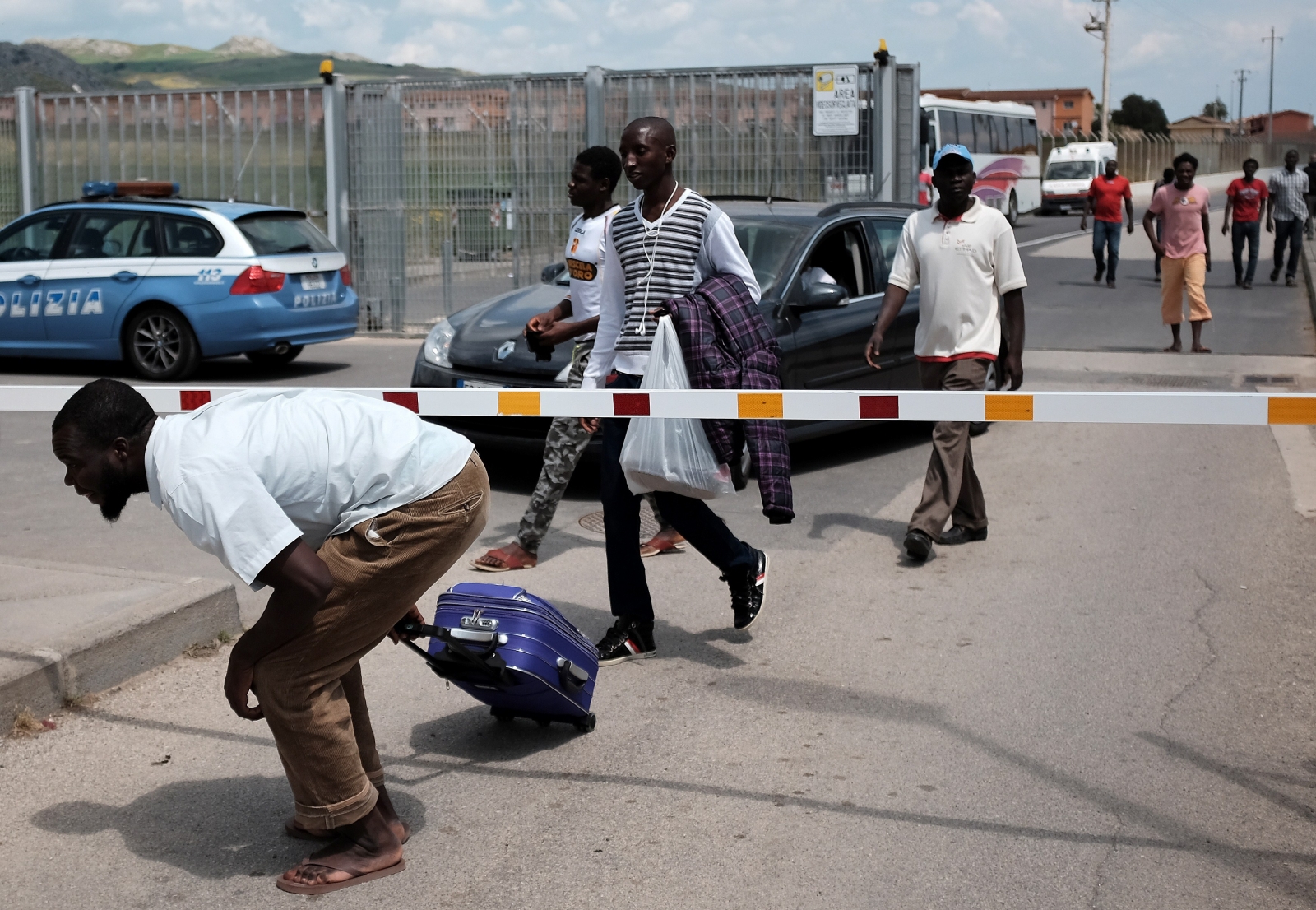 Europe's largest migrant holding centre, the Cara Mineo near Catania in Sicily, is reportedly the operative base of a human trafficking network stretching from Libya to Milan and aimed at smuggling the migrants to northern Europe.
Sicily-based smugglers with links to their Libyan counterparts are tasked with picking up asylum-seekers when they arrive by boat after a perilous voyage through the rough Mediterranean Sea and arrange passage to safe houses in Sicily. Then the traffickers buy bus tickets for new arrivals to Milan, where they meet other smugglers at the city's Porta Venezia. The migrants are provided with false IDs which they can use to travel to Sweden, Norway, the Netherlands and Germany.
Earlier in April, Palermo prosecutors arrested 24 people, said to be Eritrean, Ethiopian, Ghanian and Ivory Coast nationals, who were in charge of the last part of the migrants' journey. Six of them were residents of the Cara Mineo holding camp, located about 50km away and hosting more than 3,200 migrants awaiting months to get the asylum documents.
An Eritrean-born former refugee who has lived in Catania for 40 years and who is familiar to the human trafficking modus operandi, revealed details of the ordeal in an interview to IBTimes UK.
"These people are worse than the smugglers in Libya. They have links with the human traffickers there and know exactly what time the boat arrives to Italy," the man, who refused to be named for fears of repercussions told IBTimes UK.
"They approach the migrants and smuggle them inside Mineo using a hole in the wired fence, then they force them to pay €10 per person every night to sleep in rooms where 10 people are crammed together," he said.
"Then, they get in touch with the family back in their country of origin and ask for a ransom for the final leg of the journey."
A bus ticket to Rome is charged €150 and to Milan €200. The migrants stay in safe houses until the negotiations with anguished families in Africa is over.
"In my house, I have 117 of them, sleeping standing up," one of the suspects arrested in Palermo said, according to phone calls intercepted by police.
Families of the migrants are usually ready to cooperate with the traffickers.
"After all the adventures they have been through — in Africa by land and if they were lucky after the trip by sea to Italy — the migrants or their families don't flinch at these last demands for payment," Maurizio Calvino, head of the Palermo police unit that led the investigation there, told AP.
The smuggling networks are "50% delivery services and 50% tour operators," said Palermo Chief Prosecutor Francesco Lo Voi.
Sebastiano Maccarrone, director of Mineo, denied that the centre had become an operative hub for the international smuggling network.
"Police arrested just one or two former residents of the camp who obtained political asylum," he told IBTimes UK. "Perhaps they managed to sneak inside the centre evading the tight control checks, but there is no 'smuggling base' as reported by media."
A Milan-based Eritrean migrant, who has been living in Italy for six years, said that Milan is the "gateway to northern Europe" and that every refugee arriving in Italy has to pass through the Lombardy regional capital.
IBTimes UK exclusively revealed stories at Mineo of overcrowded sleeping quarters, scarce food supplies, bullying, intimidation, withheld daily allowances, absence of health checks and frustration over the lengthy asylum process in a special investigation.
The centre, a former residential complex for US military personnel which was opened to cope with the huge influx of migrants arriving in Italy, has allegedly become a lucrative business for its administrators.
The Italian interior ministry pays the consortium running it and others like it as much as €35 per adult per day for accommodation, meals, clothing, health and legal assistance. That adds up to €112,000 a month for Mineo alone.