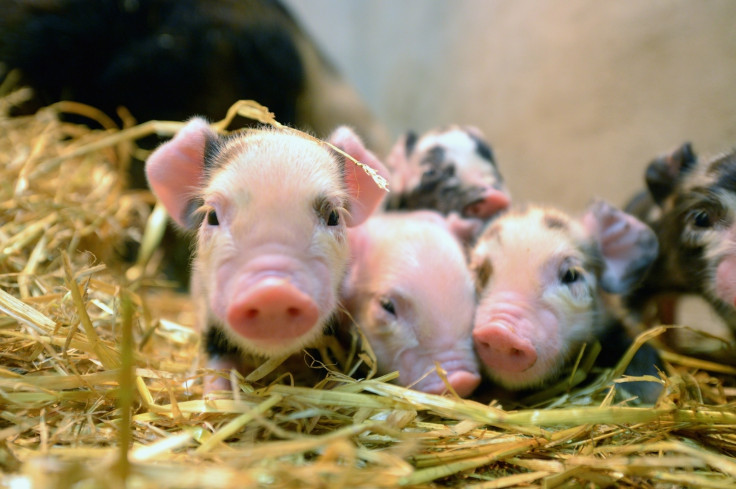 A litter of piglets that were rescued from a barn fire in Wiltshire earlier this year were served up as sausages to the firefighters who rescued them and the internet was furious. In February, 18 piglets and two sows were saved by the Pewsey Fire Station from a fire at Milton Lilbourne in Wiltshire that burned over 2,000 pounds of hay.
The pigs were given a six-month stay of execution after they were rescued from the farm. However, having being reared for meat, they were eventually slaughtered, turned into sausages and given to the Pewsey fire team as a thank you.
"I'm sure vegetarians will hate this," farmer Rachel Rivers told the BBC. ""I wanted to thank them. I promised them at the time I'd bring down some sausages for them, which they were all pleased about.
"I gave those animals the best quality of life I could ever give until the time they go to slaughter and they go into the food chain. You do feel sad at the end of it... but to bring them down for their [the firefighters] Monday night practice was a good way of saying 'thank you'."
The firefighters thanked the farmer "for her generosity" and described the sausages as "fantastic " and "highly recommended."
In a Facebook post, the Pewsey Fire Station wrote: "Exactly 6 months and 1 day since FF's Olsen and Richardson rescued 18 piglets from a farm in Milton we got to sample the fruits of our labour from that February night. Huge thank you to Rachel Rivers for dropping them off for us to sample.
"If anyone of our followers is having a bank holiday BBQ this weekend then check out these sausages, they are fantastic."
The controversial gesture of gratitude, however, drew fierce criticism on social media and users slammed it as "sick and disturbing."
"Jesus Christ, this is some dark as f**k shit," one Twitter user wrote.
"If you rescue cats, dogs and babies, do you sit down to eat them six months later? You are vile human beings," one Facebook user wrote. Another posted: "I thought they were driven by compassion, instead it seems they are driven by their appetites."
The fire station later took down the Facebook post and apologised for it.
However, some people defended the firefighters saying it was the farmers' decision to give the team "some meat as a thank you".
"Our fire fighters are on call 24/7 to come and save anyone in any kind of danger," one Facebook user wrote. "They did their jobs by saving those animals on the farm and it was at the farmers' decision to give them some meat as a thank you! My grampy used to be chief fireman and he would be absolutely appalled at some of the comments being said about the firemen."