Sick Islamic State (Isis) jihadists have sliced nine youths in half with a chainsaw in a brutal public execution, say reports. The latest example of Daesh (Isis) savagery is said to have taken place in their largest stronghold in Iraq, Mosul.
The nine "youths" were accused of belonging to an anti-resistance faction within the city, which was once the second largest in the country, say unconfirmed reports. They were apparently arrested by militants and sentenced by a Sharia court, versed in their sick brand of Islam.
The city is braced for an attack from the Iraqi army and reports of unrest inside Mosul have began to emerge in the past few months as the city becomes more and more isolated. US president Barack Obama has predicted that Mosul will fall by the end of 2016, but before then disturbing tales of IS brutality have increased.
In the latest reported example of IS savagery, the court decreed that the nine youths should be tied to an iron pole in the centre of Tal Afar Square and then sliced in two with an electric chainsaw. The Iraqi News website carried the report, but because of the nature of the war in Mosul, these reports are often not possible for IBTimes UK to verify independently.
An anonymous source told Iraqi News: "Isis fighters have executed nine youths of Mosul. The outfit accused that these youths belonged to an anti-Isis resistance faction. The death sentence pronounced by ISIS sharia court stated that the men should be tied to an iron pole in the centre of Tal Afar Square in Mosul and then sliced into two with an electric chainsaw".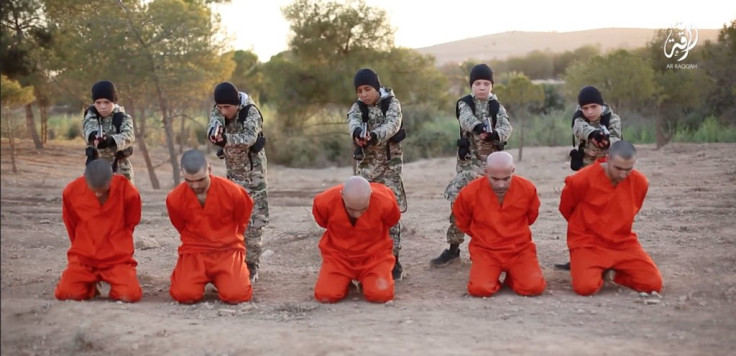 IS gained control of Mosul in 2014, after executing thousands of Iraqi soldiers, Kurds, Yazidis and Shi'ites in northern Iraq. From the pulpit of the Great Mosque of al-Nuri, in Mosul, IS warlord Abu Bakr al-Baghdadi declared the formation of their so-called caliphate, and he is indeed thought to be somewhere near the city.
On 30 August, pro-Baghdad militias, incorporated into the Iraqi as popular mobilisation forces, and preparing for an assault on the city, were accused of recruiting children to fight against IS. Drafted from internal displacement camps near Erbil, the militias were said to have signed-up at least seven children on 14 August when they took away about 250 new recruits.