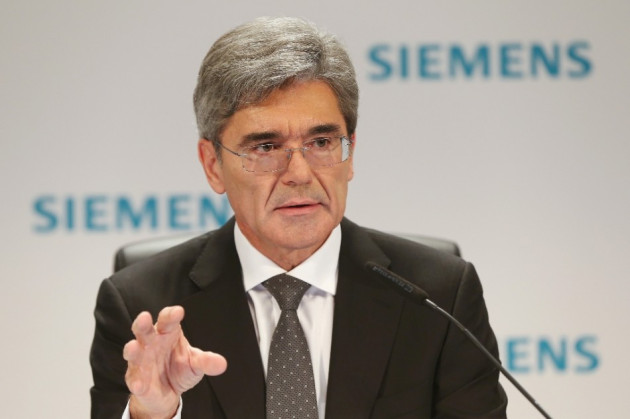 German engineering giant Siemens proposes to buy back shares worth €4bn over the next 24 months, said chief executive Joe Kaeser.
Kaeser also said the company, which is halfway through a two-year €6bn cost-cutting exercise, will dole out a dividend of €3 per share for fiscal 2013. Analysts had expected a payout of €3.11 per share.
Investors welcomed the news, with the company's stock trading 4.89% higher to €97.55 at 14:38 hrs in Frankfurt, valuing Siemens at €82.21bn (£68.5bn, $109.8bn).
Siemens anticipates higher profitability in 2014, when Kaeser will outline his new strategy for Germany's second biggest company by market value.
The company's markets will remain "challenging" in fiscal 2014, Kaeser said as he presented its annual results on 7 November.
Nevertheless, the company foresees fiscal 2014 earnings per share to increase by at least 15% from the preceding year's €5.08, more than double the 7.2% growth rate of fiscal 2013. Siemens does not expect its short-cycle businesses to recovery until late in the fiscal year, however.
"The managing board is working on a strategic concept that will outline 'Siemens beyond 2014'. We expect to present the results to you in May 2014," Kaeser said.
Cost-Cutting Drive
Siemens has come under pressure to cut costs to close a profitability gap with rivals such as Switzerland's ABB and America's General Electric.
For fiscal 2013, the German firm's "revenue development lagged behind that of its most important competitors by 3.6 percentage points," chief financial officer Ralf Thomas said.
Earlier, Siemens announced that it would axe 15,000 jobs over the next year, part of the €6bn cost-cutting plan unveiled in November 2012.
The move represents a 4% reduction in the 370,000 employee strong business. A third of the losses will be seen in the engineering firm's German-based units.
Fiscal 2013 Results
For fiscal 2013, orders rose 8% year-on-year to €82.35bn, owing to a higher volume from large orders compared to the prior year.
Revenue was down 2% to €75.88bn, while annual operating profit dropped 20% to 5.79bn, according to the results statement.