Survivors of Sierra Leone's deadly mudslides are being told to leave the emergency camps where they have been living since August.
The government has started closing the camps, despite warnings from NGOs that people have nowhere to go.
A mudslide triggered by torrential rain killed an estimated 1,000 people and displaced more than 3,000 when it struck Sierra Leone's capital Freetown on 14 August.
Survivors were moved to aid camps after being promised permanent resettlement by the Sierra Leonean government. But three months after the disaster, hundreds of families remain displaced.
A total of 98 families are living in the two official government camps, which are predominantly funded by UK Aid and the World Food Programme, but almost 500 other families are being housed in four unfinished buildings, according to The Guardian.
The two government camps started evicting people this week.
"A government team came by and told us to clear the camps by 15 November, but we as community elders will not force these people to leave while they still have nowhere else to stay," Abu Bakar Conteh, a spokesperson for the survivors, told The Guardian.
"After [the mudslides] people were told to abandon the areas where their homes were, so they came up here to these buildings. Since they've been here, no one's been able to give them anything that could help resettle them," he added.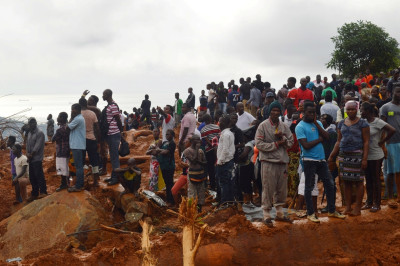 The government has accused the organisers of the four informal shelters, who have refused to evict survivors until there is an adequate resettlement programme, of trying to defraud relief efforts.
Ismail Tarawali, Head of the Office of National Security (ONS), said: "Most of the people there were not actually affected, but are just trying to fool the system. People bring their families from up country to come and make fake claims. It makes it very difficult to conclude this exercise. Some people are just rogues."
Jamie Hitchen, policy researcher at the Africa Research Institute, told IBTimes UK that people are being told to leave "hastily assembled camps, but the government has seemingly no plan as to where they should go".
He said that the government had promised to build 52 houses on the outskirts of Freetown by mid-October, but that these plans have not materialised. Hitchen said that the evictions would force people without a support network to live "in parts of the city susceptible to flooding or return to areas close to where their houses were destroyed in August."
He added that the government's response to the disaster has been "bereft of long-term thinking" and has failed to address "underlying challenges in urban management and deforestation that cause annual flooding in Freetown".
Hitchen criticised the financial support offered to survivors. "Each survivor is to be given only a little over £200 to start again," he said. "These are people who lost everything during the mudslides."