A Sikh couple from San Francisco are suing AMC Theatres after staff at the cinema told Manjot Singh to leave because of his traditional attire.
Singh and his wife were at the cinema watching Man of Steel. He had gone to the foyer to buy his wife a drink when he was approached by several members of staff who asked if he was carrying a weapon because one of them "knew about Sikhs".
He responded by saying he had a modest kirpan, a small knife Sikhs are required to carry as part of their religion. Staff members said he must remove the knife or leave.
Following the incident, AMC made a statement saying the kirpan was on show and that this violated its no weapons policy. Singh says he was wearing the religious item beneath his clothing.
Singh's wife was also wearing a kirpan so after they fetched her from the screen, she was also asked to leave.
Devout Sikhs wear the kirpan as a symbol of their duty to always stand against injustice and it should be worn at all times.
The Singh couple are now taking legal action in pursuit of an apology, demanding that the company change its policies targeting Sikhs and turn over the surveillance footage to show what happened at the cinema.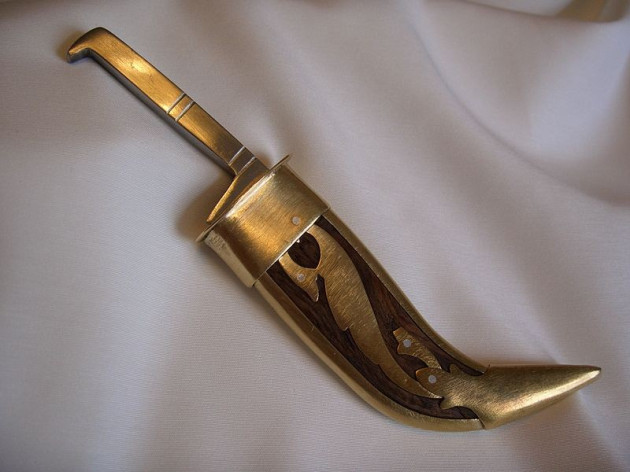 They are being represented by Manmeet Singh, staff attorney of United Sikhs, and Harmeet Kaur Dhillon, from the San Francisco-based law firm Dhillon & Smith LLP.
Dhillon said. "Manjot Singh and a vast majority of Sikhs wear their kirpan underneath their clothes, and the staff never saw Singh's kirpan. He was singled out by the staff merely because of his appearance as a turban-wearing, bearded Sikh who apparently made the theatre manager uncomfortable."
The United Sikhs lawyer added: "What happened to this couple at the AMC Theatre in Emeryville - singling them out because of Manjot's appearance - was inexcusable, and we want to make sure that this never happens again to another Sikh patron of the AMC chain."
Singh said he is not pursing the legal case for financial gain but just wants an apology and a change of policy.
"My wife and I were publicly shamed by a racist and discriminatory act," he said. "We were publicly humiliated and made to look like terrorists while going about our business like other Americans and trying to enjoy an evening out. We just want to make sure this doesn't happen to other Sikhs."