Berlusconi's Bunga-Bunga Strippers Dressed Up as Barack Obama, Says Bellydancer Ruby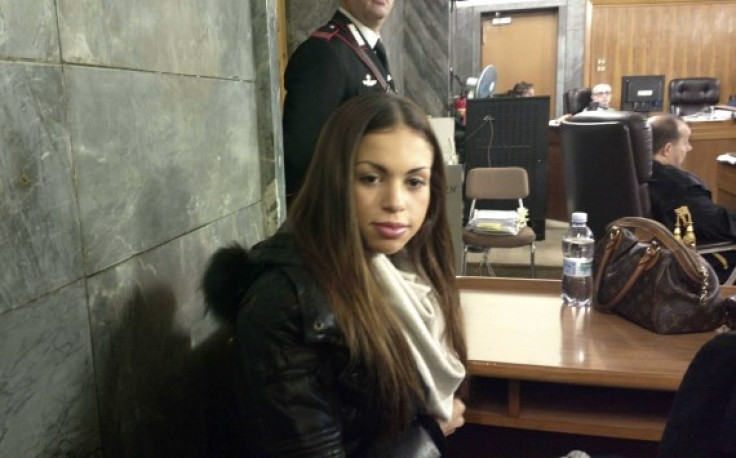 Silvio Berlusconi's infamous "bunga-bunga" parties featured strippers dressed as US President Obama as well as the more conventional fare of nuns and nurses, according to court testimony by the Moroccan woman at the centre of the scandal.
Karima el-Mahroug, 20, was giving evidence at the trial of three former aides to Berlusconi who are accused of procuring her and other women for prostitution.
El-Mahroug, a former bellydancer, said she attended about half a dozen parties, using her nickname Ruby. One each occasion, Berlusconi had handed her an envelope containing up to €3,000 (£2,500), she told the court.
She later received a lump sum of €30,000 (£25,000) in cash from Berlusconi, which was paid to her through an intermediary, she said. She had told Berlusconi she wanted to use the money to open a beauty salon, despite having no formal training.
But she denied that Berlusconi had ever given her €5 million (£4.3m), admitting she had said that to acquaintances, and even her father, "as a boast", but that it was a self-aggrandising lie.
El-Mahroug, dubbed "Ruby the Heartstealer" in the Italian press, denied having worked as a prostitute, and both she and Berlusconi deny having had sex.
The trial is separate from the one in which Berlusconi is charged with paying for sex with a minor - el-Mahroug, when she was 17 - and trying to cover it up.
The three aides - Emilio Fede, an executive in Berlusconi's media empire; Nicole Minetti, a former dental hygienist, showgirl and local politician, and talent agent Dario "Lele" Mora - are accused of procuring women for prostitution at the parties and abetting prostitution, including of a minor. They deny the charges.
Dressed soberly with her hair pulled back, el-Mahroug said she first made contact with Berlusconi's inner circle when she participated in a beauty contest organised by Fede in Sicily when she was 16.
Fede later invited her to a dinner party at Berlusconi's villa outside Milan, held on Valentine's Day in February 2010, where she met the premier.
That night Berlusconi gave her the envelope of cash, saying it was "a little help" and asked for her telephone number, which she gave him.
At that party, she introduced herself as Ruby and told other guests, again untruthfully, that she was Egyptian, that her mother was a famous Arab singer and that she was related to then-Egyptian President Hosni Mubarak. She was 17 at the time but passed herself off as older, she told the court.
El-Mahroug confirmed previous testimony by other witnesses that at some of the parties, female guests dressed up as nuns to dance for Berlusconi, before stripping down to their underwear.
The parties took place in a private disco at Berlusconi's villa, equipped with a lap-dancing pole, el-Mahroug told the court.
El-Mahroug said Minetti had dressed up like a nun at the Valentine's Day party, before lifting her costume to show off her legs as she danced in Berlusconi's in-house disco.
Demonstrating to the court how Minetti hitched up her hemline, she said Minetti eventually stripped down to her lingerie.
Another young woman dressed up alternately as Obama and a Milan magistrate who is leading the prosecution against Berlusconi in the sex scandal, donning the red wig and the black robes worn by magistrates in Italy.
"The girls who were dressed in costumes approached him in a sensual way as they danced. They raised their skirts," said el-Mahroug, adding: "I never saw contact."
However, her credibility came under serious doubt. Pressed by the judge on wiretaps in which she appears to refer to acts of prostitution, she said her statements were just "stupid things".
She had used the same phrase to explain away her earlier financial boasts.
Berlusconi is said to have been introduced to the concept of bunga-bunga - an obscure African ritual involving nude women and erotic dance - by the former Libyan dictator Muammar Gaddafi.
© Copyright IBTimes 2023. All rights reserved.