British readers know only too well the pain of an ancient kingdom wanting to tear itself apart. A year ago this week, the Scots voted 55% to 45% to stay in the United Kingdom. Up until results were announced, it appeared a close-run thing: opinion polls had shown the separatists just ahead shortly before the election, triggering a wave of panic in the Westminster political establishment. As soon as the Scots voted to stay in they seemed to regret it, and showed as much by electing 56 separatist MPs out of 59 at May's UK general election.
Now something similar is set to happen in Catalonia. An unofficial referendum last year had an 80% vote for the region to leave Spain, on a 40% turnout. Because Madrid refused to recognise their legitimacy of this vote the president of the Catalan region, Artur Mas, called a regional parliamentary election to provide an official and indisputable gauge of feeling: these happen on 27 September.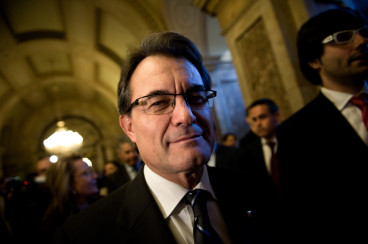 It is likely a majority of the 135 representatives chosen will favour breaking away from Spain. Like Scotland, Catalonia was once an independent nation, though it was effectively absorbed into the larger Spanish state in 1469. During the Franco regime dislike of central rule grew, a dislike that appears not to have abated since.
One reason for this is the Spanish economic disaster of the past decade – attributable not least to the country's membership of the euro – which has led to shocking rates of unemployment across the country.
Catalonia has one of the most developed regional economies in Spain, and Catalans believe they are subsidising a lack of initiative and structural reform elsewhere in the country. In this respect the similarity with Scotland, which receives a net subsidy from England, ends. Catalan separatists have claimed they put €4 into the national economy for every three they get back.
Mariano Rajoy, the current Spanish prime minister, refused to recognise the legitimacy of last year's plebiscite, bringing him into direct conflict with Mas. Mas is adamant that if there is a separatist majority after 27 September Madrid can no longer refuse Catalans a vote on their future. There have already been veiled threats of a unilateral declaration of independence (UDI), and it is not clear what Rajoy would do if there were. General Franco would have sent in the army but those days, thankfully, are long gone.
Breakaway arguments
It is not just that Spain is so economically dependent on Catalonia: there is also its position in Europe and in the world, which would be greatly eroded if it allowed this region to break away. Also, Catalonia might not be the last exercise in Spanish separatism. Rajoy is short on arguments to persuade Catalonia to stay, given the relative performances of the Spanish economy and the separate achievements of Catalonia.
In the Scottish referendum campaign of 2014, there were telling taunts against the Scots about how they would fare without English money. No such scaremongering can work for Rajoy, though another problem the Scots never resolved – whether or not they would automatically stay in the European Union in the event of their leaving the UK – applies to Catalonia too.
Rajoy may not be able to send the army in should Mas declare a UDI – we must hope – but he can do the next best thing, which is to veto any application by a new Catalan state to join the EU. That might not, though, have the support of other small EU states, whose recent independence from the Soviet bloc leaves them with an idea of the potency of national aspiration. So if Rajoy goes down that road he may lose a lot of friends in the EU.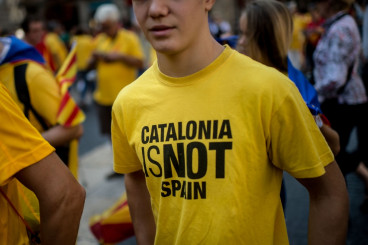 Catalonia has a much bigger GDP than Greece, and a GDP on par with Portugal – around £210bn (€246bn, $324bn) a year. It would be heavily dependent on trade with Spain, which would inevitably not be conducted on favourable terms. And would need to make new arrangements with other EU countries. It would have to leave the euro.
It would, despite its relative wealth, be in a far tighter position than Scotland, because Scotland's main trading partner – England – would have felt none of the hostility towards it after a break that Rajoy has indicated the Spanish government would demonstrate towards the Catalans. However, that is likely to encourage, rather than dissuade, Catalans to take him on. He has far more to lose than the breakaway province, not least his personal credibility in international arenas.
What is happening in Spain is another example of Europe's inability to come to terms with the new economics. The more the EU comes to resemble an overpriced cartel, the more it will lag behind other parts of the world in competitiveness and growth, and the more of its citizens will be out of work.
As with Greece, Spain's problems stem from its desire to pretend it would punch above its weight in the eurozone with other big players. No wonder regions with local success stories such as Catalonia, helped by an ancient identity, want to go it alone. This is going to be a messy business, and I doubt it will be the last.
---
Dr Simon Heffer is a British commentator and author who has written columns for The Daily Mail, The Daily Telegraph, The Spectator and The New Statesman. He is the biographer of Enoch Powell, Thomas Carlyle and Ralph Vaughan Williams and recently published High Minds: The Victorians And The Birth Of Modern Britain.
---