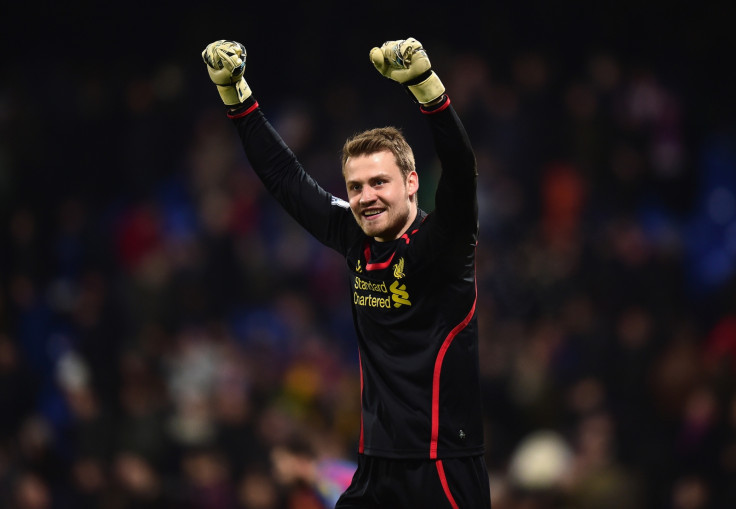 Goalkeeper Simon Mignolet says his fiancée and the Liverpool coaching staff helped him regain his best form at Anfield after falling out of favour with manager Brendan Rodgers earlier in the campaign.
After an impressive debut campaign on Merseyside following his move from Sunderland in summer 2013, the Belgium international started the current season as first choice keeper ahead of Brad Jones. However, after suffering a dramatic dip of form during the first part of the campaign, Rodgers decided to drop him for the crucial game against Manchester United in December.
Mignolet's future at the club came under increasing scrutiny after he was left on the bench for the games against Bournemouth, Arsenal and Burnley and his manager spoke about the possibility of signing another keeper during the January transfer window.
But an injury to Jones, sustained in the Boxing Day game against the Clarets, gave the Belgium stopper a chance to respond the manager and regain his place in the line-up.
Mignolet now says the support he received from his fiancée and the coaching staff helped him turn the situation around.
"What [my fiancée] asked me was are you over-thinking stuff too much? Coincidentally the day afterwards when we met the coaching staff they said the same thing," Mignolet told Liverpool magazine.
"That triggered something similar to a click in my head, something which told me: look we have to change something here. Obviously it helped that she and the coaching staff noticed it at the same time, so that was something we changed and it has helped my game and my performances since."
The Belgium international is now one of the favourites to win the Premier League Golden Glove award with just three games remaining, having kept 14 clean sheets during the current campaign, one more than Southampton's Fraser Forster and Manchester City's Joe Hart.
The 27-year-old hopes to clinch the personal award but especially to help his side battle Manchester United for the Premier League top four, with Louis van Gaal's team just four points above with three games remaining.
"There is still a big incentive between now and the end of the season to try and get the most clean sheets together because that will mean we have finished the season strongly," he continued.
"I know from experience that in the Premier League anything is possible and everything can twist and turn.
"That is why we have to focus on our own jobs and make sure we win as many games as we can. We defend as a team and hopefully winning that award could also see us get into the top four.
"To achieve those things would be a great way to end the season."