The Simpsons Family Guy Crossover Episode: Homer, Peter and Co. Bond in Trailer Released at Comic Con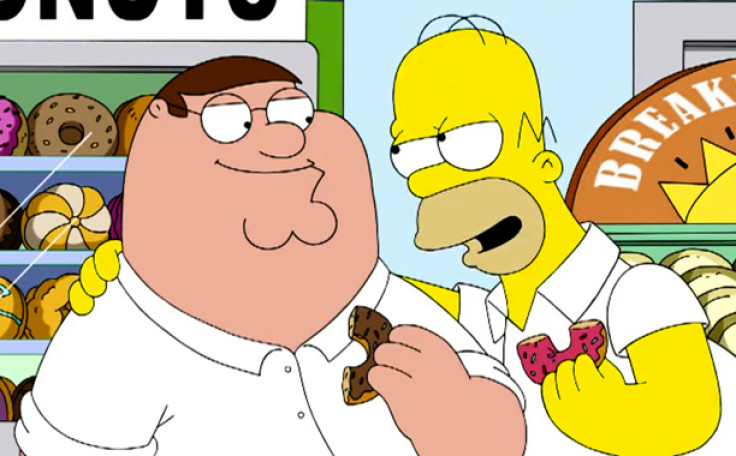 The Griffin family is leaving Quahog, Rhode Island and heading to Springfield to pay a visit to Homer Simpson and his brood for a special crossover episode between Family Guy and The Simpsons.
The producers of the hit animated comedy Family Guy have given fans their first glimpse of the upcoming crossover episode in Comic Con 2014.
The teaser begins with the Griffin family giving their divided opinions about Springfield on arrival.
Peter warns Stewie not to drink the water because "everyone around here looks like they have hepatitis", while Lois says, "this Springfield place seems nice, we should visit here again," reported Entertainment Weekly.
Couch potatoes Peter Griffin and Homer bond over a shared love for donuts after Homer offers the visiting family with a box full of donuts. However, the two dads later fight over their favourite beer brand. Meanwhile, Bart Simpson and Stewie Griffin are seen making prank phone calls and skateboarding.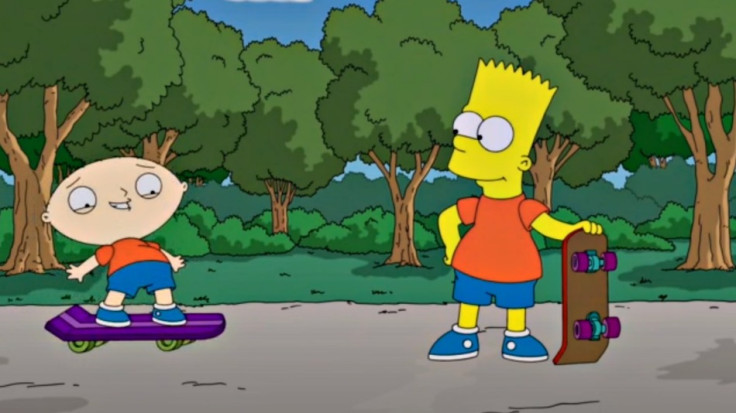 The clip also featured other characters such as Ralph Wiggum and the aliens Kodos and Kang, an extended fight sequence between Peter and Homer and an incident at Springfield Nuclear Power Plant.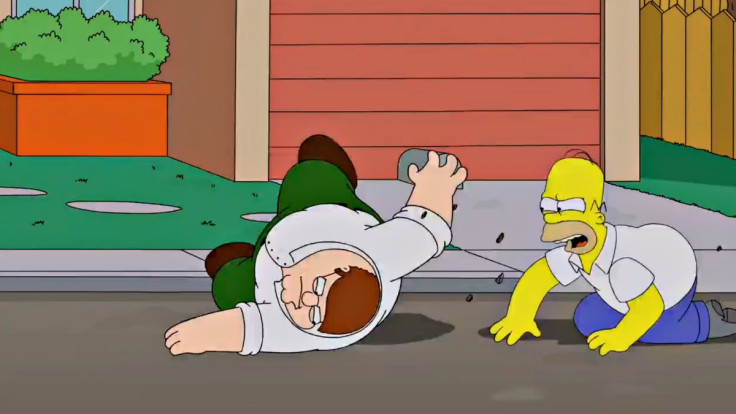 Simpsons creator Matt Groening appeared during the panel to ask for the producers' advice on how a young, struggling animator could break into the business.
According to reports, The Simpsons cast members Dan Castellaneta, Julie Kavner, Nancy Cartwright, Yeardley Smith and Hank Azaria all worked on the episode.
The producers of Family Guy also teased about a movie on the Quahog Family at the Comic Con.
Family Guy producer Steve Callaghan stated how hard it is to find the time to make a movie while they were busy working on the show.
"We kind of started pre-work on it a couple years back, but I think it's on hold right now because Seth is filming Ted 2. But I think maybe in the future it might happen," Callaghan said.
"Someday we will make that happen," he added.
The Simpsons, an animated Fox show by Groening about a working-class dolt, Homer, and his uptown clan, hit the TV screens in 1989 and was an instant success.
Family Guy by Seth MacFarlane came 10 years later as a spoof version of The Simpsons. Family Guy took shots at The Simpsons' shoddy early animation in previous episodes but the rivalry has grown more friendly over time.
The one-hour crossover special, The Simpsons Guy, will be aired on 28 September, 9 pm on Fox.
Check out the trailer of the crossover episode below.
© Copyright IBTimes 2023. All rights reserved.