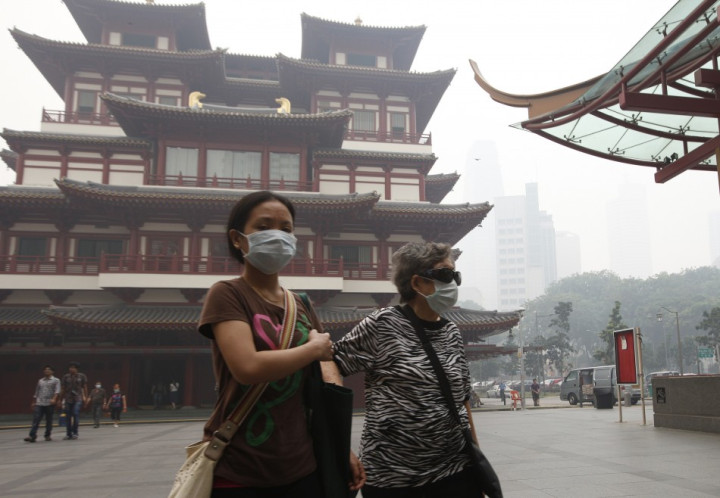 Thick smog engulfing Singapore from neighbouring Indonesia's forest fires could potentially cost the economy more than the country's 1997 haze crisis
It comes at a time when Singapore's fragile manufacturing sector knocked the economy to a 1.4% quarter-on-quarter contraction in the opening three months of 2013.
Many analysts say that the situation could be worse than the 1997 haze crisis that swept across south east Asia, when slash and burn farming in Indonesia caused smoke to billow across the region causing visibility and health problems. It cost the affected countries, including Singapore, around $9bn (€6.9bn, £5.8bn).
So far, a number of businesses have been forced to close and there are fears about the impact on the country's tourism industry, as visitors stay away because of health concerns. Tourism accounts for 4% of Singapore's GDP and is worth around $18bn to the economy.
"In 1997, the level of pollution was not this severe, and on the other hand the tourism industry's contribution to the economy was relatively smaller back then," said Irvin Seah, DBS economist.
Lee Hsien Loong, Singapore's prime minister, warned that the smog "can easily last for several weeks, and quite possibly longer until the dry season ends in Sumatra".
Environment minister Vivian Balakrishnan described it as "the worst haze that Singapore has ever faced".
"If the haze persists over the coming weeks during the seasonal slash-and-burn period in Sumatra, it has the potential to have significant negative effects on the Singapore economy," Rajiv Biswas, Asia Pacific chief economist at research firm IHS Global Insight, told AFP.
"Images of the haze enveloping Singapore are being widely reported on TV channels and other media globally, and can be particularly damaging to Singapore's world-class tourism industry."
Singapore's government is considering legal action against two Indonesian companies that operate in the country.
Both own land on the island of Sumatra, Indonesia, where the fires have created the troublesome smog.