Singapore's Land Transport Authority has signed a partnership deal with ST Kinetics to develop and trial driverless buses on the island.
The deal, signed on Monday (10 April) could see driverless buses hitting the republic's roads by 2020.
The LTA has signed partnerships with the Energy Research Institute at the National Technological University, Delphi and nuTonomy.
The 12-metre long, 40-seater buses will have maximum speeds of 60km/h and are set to be developed in three phases over 42 months.
They will initially be used on fixed and scheduled routes based on selected feeder and trunk bus services, making its buses one of the first in Singapore to operate on public roads.
In a statement, the company said the buses will use a satellite-based global positioning system, coupled with sensors, to navigate, with radars and sonars to detect other vehicles and pedestrians up to 200 metres ahead.
ST Kenetics is also working to improve the buses' ability to navigate in heavy rain. Currently the vehicles can only withstand only 10mm of rain an hour, but engineers are confident of increasing this to around 30mm an hour.
According to Singapore's Meteorological Service, it rains an average of 178 days of the year in Singapore, often heavily and accompanied by thunder. The annual rainfall is around 2,328.7mm.
ST Kinetics President Dr Lee Shiang Long said that his company's plans differ from other autonomous vehicle projects as it is aimed at meeting public transport requirements rather than private, car-based solutions.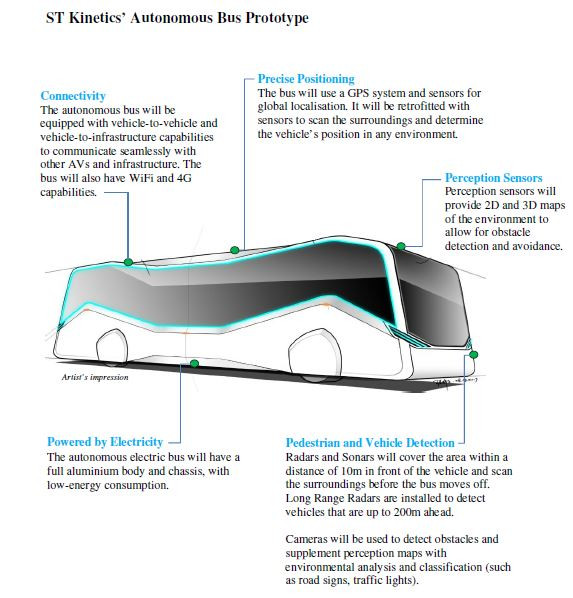 He said the project will tap into cybersecurity experts from the Agency for Science, Technology and Research, the NUS and the Singapore University of Technology and Design. Vulnerability analysis and penetration testing will be carried out to ensure that key components in the system are protected and the passengers are safe, he added.