Alight here for the future: Driverless bus makes UK debut at Heathrow Airport
Heathrow hosts first UK demonstration of the Nava Arma, an electric and fully driverless shuttle bus.
As Tesla and the rest of the car industry excites us with the promise of autonomous driving, it could be argued that more mundane modes of transport are already miles ahead.
An example is the Arma, an electric and fully autonomous shuttle bus produced by French company Navya and already ferrying customers on the public roads of Australia, Singapore, Germany, Switzerland and Las Vegas.
The bus, which can operate for up to 13 hours and carry 15 passengers at almost 30mph, was demonstrated for the first time in the UK on 24 January. IBTimes UK attended the event, which took place at the car park of Compass Centre, the nerve centre of London's Heathrow Airport.
Although Heathrow is yet to commit to using the buses, even on a trial basis, it is a prime contender for Navya's first UK fleet. The buses would be used to ferry customers from Heathrow's car parks and into the terminal buildings.
Henri Coron, vice president of sales at Navya, told IBTimes UK how the bus is aimed at the 'first and last mile' of every journey. "We carried more than 100,000 people last year and we have done more than 50,000km...it's a first mile and last mile solution, fully electric and full driverless so no infrastructure is required."
The demonstration at Heathrow saw the bus navigate a busy carpark during a lap of roughly 600 metres. The Navya team spent six hours plotting the route and uploading it to the bus, which is then able to drive without assistance, comparing the route to what it can see with cameras and lidar sensors. The bus we rode in is an older experimental prototype and Navya say its newest vehicles (as used during a trial in Las Vegas in January) can navigate around surprise obstructions and read road signs.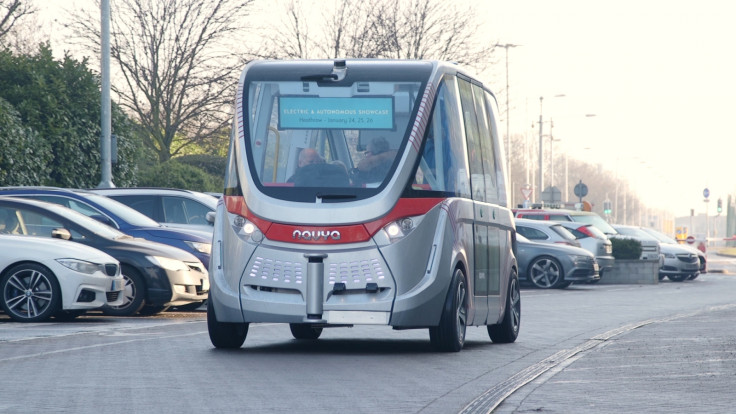 Despite its age, the bus provided an acceptable ride and at no point did we feel it had become confused or was likely to drive into another vehicle. However, sticking to the car park's 10mph speed limit visibly infuriated some drivers who were unable to get past. A member of the Navya team rode with us and could have taken over via an Xbox controller, but this wasn't necessary.
Coron continued: "The machine can do better than a human, so what's the point of a human doing the same track 15 times a day? This vehicle doesn't drink, doesn't smoke, doesn't go on strike...everywhere in the world we know how to drop 200 people at the train station...But we don't know how to bring people from their house to the first collecting point of transport, or from the last stop to their offices."
Instead, humans tend to use their own car for connecting the dots where public transport can't reach. Navya hopes its buses will offer a solution where commuters are collected from their home and taken to the train station, then from the station to their office, negating the need to drive and cutting both air pollution and road congestion.
Steve Armitage, manager of IT futures at Heathrow, says the airport is "all about innovating...which is why we're keen to showcase the autonomous technology, to start the debate among the Heathrow community." Armitage added that Heathrow is "excited about this technology", but says it is still early days and admits the airport is not ready to discuss when such vehicles could be used just yet.
© Copyright IBTimes 2023. All rights reserved.