Arsenal manager Arsene Wenger has revealed he "detected signs" in recent seasons that Sir Alex Ferguson would call time on his reign as Manchester United boss.
The legendary United boss will take charge for one final game against West Bromwich Albion on the closing day of the season next week, after yesterday's emotional send-off following his last game at Old Trafford on Sunday afternoon.
But having endured countless battles with the Scot throughout the Premier League, Wenger admits he wasn't surprised by Ferguson's decision.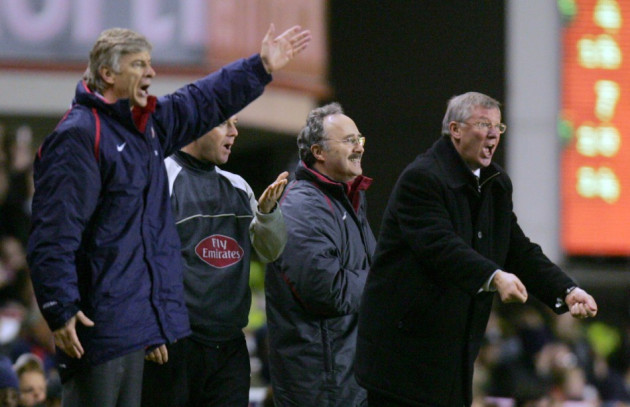 "I was not surprised and I told my staff I thought it would be his last year. I detected a few signs throughout the seasons," the Arsenal boss told a press conference on Monday morning, the Daily Mail report.
"It is sad that he has retired because it is the end of a remarkable career. But you have to respect his decision."
Wenger and Ferguson shared a number of absorbing battles during times when United and Arsenal exchanged Premier League dominance between 1998 and 2004. In recent years, Ferguson's side have pulled ahead of the Gunners, having lifted the Premier League title on five occasions during Arsenal's barren spell.
In a move that came to encapsulate the gap between the two sides, United signed then-Arsenal captain Robin van Persie for £24 million last summer, with the Dutchman believing he could satisfy his hunger for silverware at Old Trafford. But Wenger, who will now take on the title as the league's longest serving manager next season acknowledges that the pair share more respect for each other than ever before.
"We had tough periods together but I accept that," Wenger continued. "He had the right to decide. He knows it will be more difficult to have that consistency because of the financial power of some teams.
"Did he tell me he was retiring when we spoke about the RVP deal? I can't tell you that. I will one day."
Arsenal currently sit outside the Champions League places, two points behind fourth placed Tottenham Hotspur. But the Gunners know that if they win their game in hand against Wigan Athletic on Tuesday evening then they will leapfrog their north London rivals into that coveted spot.
Wenger revealed that his squad had been handed a boost in the returns of Lukasz Fabianski and Kieran Gibbs, both of whom are in contention for tomorrow night's clash at the Emirates.