Manchester United manager Sir Alex Ferguson has attacked his side after their defeat to Tottenham Hotspur on Saturday.
United suffered their second league defeat of the season at the hands of Spurs, who through Jan Vertonghen and Gareth Bale surged into a two-goal half-time lead.
Nani put the hosts back in it before Clint Dempsey made it three, but despite Shinji Kagawa cutting the defect United couldn't force an equaliser, with Ferguson still furious in the lead up to the club's Champions League game at FC Cluj.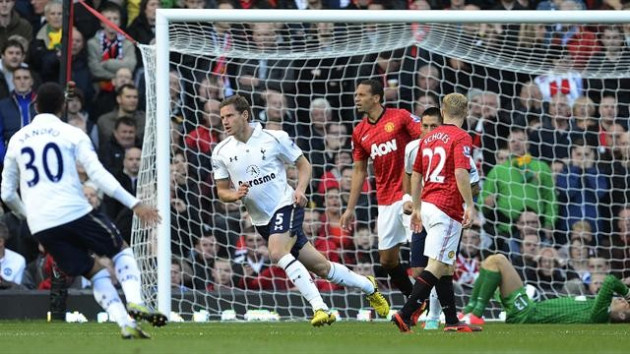 "You have to be concerned losing goals the way we did against Tottenham," Ferguson said.
"We were well off the pace of the game and I don't think we won a tackle in the first half.
"Based on our first half against Southampton, the first half at Liverpool and first half on Saturday, we have some work to do in that respect.
"I think it will be the last time it happens," he added. Fortunately, you saw the real Manchester United in the second half against Spurs, and that 45 ­minutes was probably our best ­performance of the season.
"But after the first half on Saturday I had plenty of concerns."
Having lost to Everton in the opening game of the season, United have spluttered in the early weeks of the season and they look to reclaim the Premier League title from Manchester City.
The club turn their attention to Tuesday's Champions League group game against FC Cluj and United will look to continue their unbeaten start following their win over Galatasaray at Old Trafford.
Cluj have won their last five European games, including an opening group stage win over Braga, and Ferguson is wary of the Romanian champions.
"As part of our preparations we have to assess the opposition and we saw their performance in the last game against Braga," said Ferguson.
"[Before that] they knocked out Basel, beating them twice. We know from our own experience last season that Basel knocked us out. That gives us every respect for Cluj because it tells you they're a good team.
"Cluj defend quickly and get plenty of bodies behind the ball. The main strength is counter-attack, as they showed against Braga.
"Counter-attacking has become a very important part of European football. Now it's done by four or five players, not one or two like 20 years ago, and the positive nature of the counter attack has made the Champions League much better."