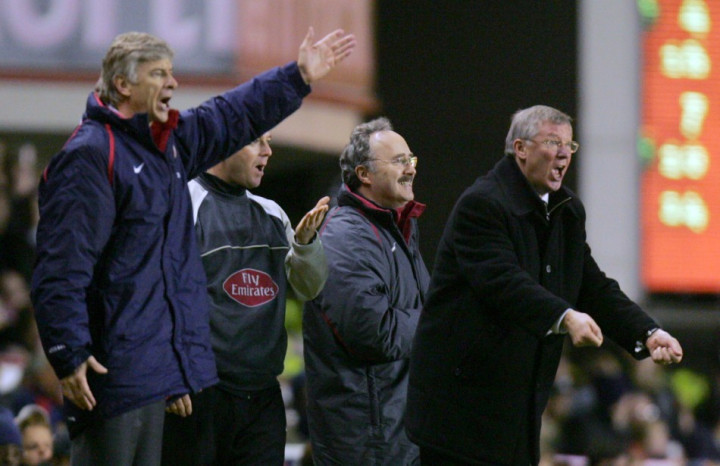 Former Manchester United manager Sir Alex Ferguson has revealed that he wanted Hull City to win the FA Cup last season because he is sentimental towards Steve Bruce, but does not begrudge Arsene Wenger his first trophy in nine years.
Bruce played under the surveillance of Ferguson from 1987 to 1996 and was among the first players to feature in the Scotsman's celebrated era. The Hull City manager was on the verge of creating history with the club, having gone two goals up within the first 20 minutes at the new Wembley in the final of the FA Cup last season against Arsenal.
However, goals from Santi Cazorla, Laurent Koscielny and Aaron Ramsey gave the Gunners their first trophy since 2005.
Ferguson revealed that he was rooting for Bruce but was happy that Wenger managed to end his nine-year trophy drought for which he was under a lot of pressure.
The Scotsman is the longest serving manager in the history of the Premier League and does not expect Wenger to beat his 26-year-old record, with the Frenchman himself entering his 18th year in charge of the club.
"The model I represented has passed into history. You won't see anyone manage one club for 26 years. I must say, though, that Arsene Wenger's reign at Arsenal deserves a special mention," Ferguson mused in the re-released version of his autobiography.
"Everyone was happy for him winning the FA Cup. I was hoping Steve Bruce would win it for Hull because he was one of my players; but you also had to have a special feeling for Arsene, given the pressure he was under for not winning a trophy for nine years.
"Who is to say that Arsene will not beat my record? I have my doubts, but he's having a good crack at it," he added.