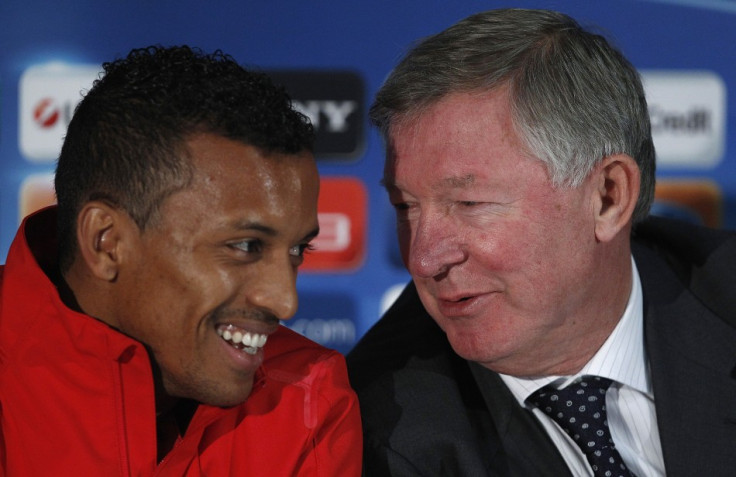 Manchester United manager Sir Alex Ferguson believes Nani is delivering on the potential that was palpably obvious when he first arrived at Old Trafford in June 2007.
The Portuguese ace can currently boast better statics than his hugely vaunted compatriot Cristiano Ronaldo at the same stages in their respective Manchester United career, even though Ferguson concedes Nani perhaps took a little longer to adapt to the robust nature of English football and the permissive referring of the Premier League.
Ahead of Tuesday night's crucial Champions League encounter against Benfica, the aforementioned Manchester United manager was eager to talk up his gifted 25-year-old winger ahead of the potentially decisive Group C match at the home of the defending Premier League champions.
"Nani has always had potential," Ferguson told Manchester United's official website. "Some of those who come to our club from abroad do it quickly, others gradually grow into it. Nani is one of those.
"Even Cristiano took two or three years to get the maturity in his game.
"That is what we are seeing with Nani now.
"The goals have been fine but his assists are very high. He is progressing really well.
Whilst Ferguson was clearly delighted to laud Nani, he was less enamoured with the amount of injuries Manchester United have had to contend with thus far this season.
Ferguson acknowledged the widely held view that their recent performances, whilst importantly clinical and resolute, were not quite up to their lofty aesthetic standards. The Scot suggests Manchester United's rhythm this season has been hampered by injuries sustained to his midfield and defence.
"You don't envisage having quite so many injuries," said Sir Alex Ferguson in his post match press conference on Monday evening.
"It doesn't disrupt us to a great degree but it does unsettle the balance of the team.
"There have been some changes in the team from the one that started the season.
"Everyone was fresh at the start. We had been through a brilliant pre-season in the States with not one injury. Then you are hit with a little list.
"Sometimes we are having to rethink which team to play whereas, when the team is in full flow, you don't need to worry."